College Welcomes Sara Russell as Principal
College Welcomes Sara Russell as Principal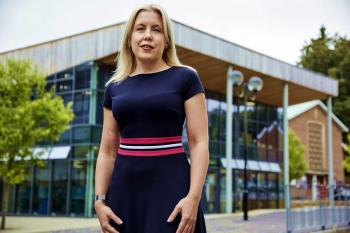 Peter Symonds College is delighted to welcome Sara Russell as Principal.
Sara joins Symonds from her role as Principal at Alton College, and brings with her 20 years of experience in sixth form education. Following the retirement of Stephen Carville in August, Sara is our 10th Principal and first female Principal.
After A levels in English Literature, History and German, Sara read History at Reading University before embarking on a distinguished career working in a range of sixth form colleges and school sixth forms.
Sara said of her appointment "I feel extremely privileged to have been appointed as Principal of Peter Symonds College; I am passionate about raising standards for all young people and providing a high quality education and well-rounded academic experience for all. Symonds' motto, 'Counting in Ones' is the key principle which guides everything the College works towards and resonates with my commitment to ensuring that each student's individual learning needs are met, helping them to fulfil their potential and realise their aspirations.
"We are lucky to have a diverse range of students and a broad curriculum offering including A levels, vocational courses and Higher Education. My aim is to build on our extensive track record of high performance and extraordinary success to create a dynamic, forward thinking college which develops students' confidence and provides an environment in which all have equal opportunities to succeed."
In addition to her role at Symonds, Sara is a member of three Association of Colleges National Policy and Delivery Groups, where she contributes to the national debate on issues within the educational sector. "My role on the Association of Colleges panels allows me to act as a strong advocate for Sixth Form colleges and to ensure Peter Symonds is at the forefront of sharing ideas throughout the national education community, raising standards for all and keeping students at the heart of everything we do."
Asked what inspires her, Sara said "Over the course of my career working in Sixth Form education I've been lucky to witness the transformational nature of further education. To watch young people achieve their aspirations is a powerful thing. The two or three years that a young person spends with us has a huge impact on their future and it is always a privilege to play a role in this process.
"As Principal at Peter Symonds, I feel this responsibility profoundly. I and my team are dedicated to creating a vibrant, inclusive and creative learning environment where all students can thrive and succeed."
Charles Scott, Chair of Governors, said "The Governors are delighted by the appointment of Sara Russell as Principal of Peter Symonds College. She brings tremendous experience and energy and we are very excited to work together to continue to maintain the College's outstanding reputation and secure an even greater future."
For further information about this article or the college in general, please contact our Marketing department by telephone on 01962 857553 or by email marketing@psc.ac.uk.