Applying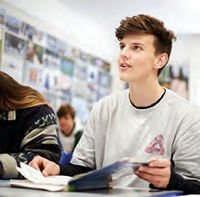 We consider applications from all suitable students provided we have an appropriate course for them. We use criteria set out in our admissions policy when making offers, and this mainly favours local applicants and those from our partner schools.
Applications for 2019
These will open on 10 September 2018 with a deadline of 17 December 2018. The deadline for boarding applications is earlier on 2 November 2018.
The Application Process
The application process is split into a number of distinct stages so that you don't have to give us all your details at once. We have built in safeguards to ensure that the details you supply us with is correct and up to date. The diagram below shows these stages: