Study Support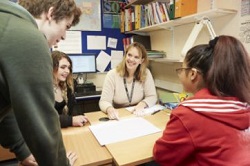 The Study Support Department offers specialist help to students who need additional support throughout their time at College. This is available for students with specific difficulties, physical or sensory impairments, medical conditions or emotional difficulties. The college is well equipped and we aim to ensure that you take a full part in college life.
Support may take the form of specialist teaching, in-class support, individual sessions or access arrangements for examinations. Please note that any examinations arrangements you had at school for GCSE may not automatically be continued. Up-to-date evidence is needed by the Exam Boards and will be discussed with you on commencing college if you have told us during the application process that you have examination access arrangements.
Equipment loans are available where a need has been identified; for example, laptops for use in class.
It is important that we are told on during the application and enrolment process if a student requires any support, so that we can organise this before arrival.
The College Nurse is available during college hours for helpful advice and in case of an emergency.
If a student requires temporary support, for example they have a broken leg, arrangements can be made to make life easier.
During enrolment all students complete an Academic Skills Profile. This asks questions about how a student studies and is available for teachers and tutors.
During a student's course they may be referred to the department by a teacher or they may refer themselves at any time. Appointments are sent by college email, so it is essential that students regularly log in to their account.
Staff and Services
We offer the following services for students:
SpLD Teachers/Assessors
These are specialist teachers who help students with specific learning difficulties to develop study strategies. They also support students for whom English is not their first language
Learning Support Assistants
You may see an LSA in your class taking notes or giving support. They are usually in class to support specified student/s – who may wish to remain anonymous. LSAs also provide support out of class as well, such as during trips and practical support across the campus.
Study Skills Support
Learning Advisers are available to talk through any study skills concerns and help you with learning strategies. You are welcome to come along to daily study skills workshops or to make an individual appointment if you would like help with organising your work, managing your time, writing essays or revision. All subject areas also have regular drop-in workshops and you will be required to attend some to support you with your learning.
English as an Additional Language
If English is not your first language you may be given one-to-one or small group teaching to improve your spoken and written English. You may be able to work towards the International English Language Testing System (IELTS), which is widely recognised as an entry requirement for further and Higher Education.