Record Number of Places for PSC Music Students at Unis and Conservatoires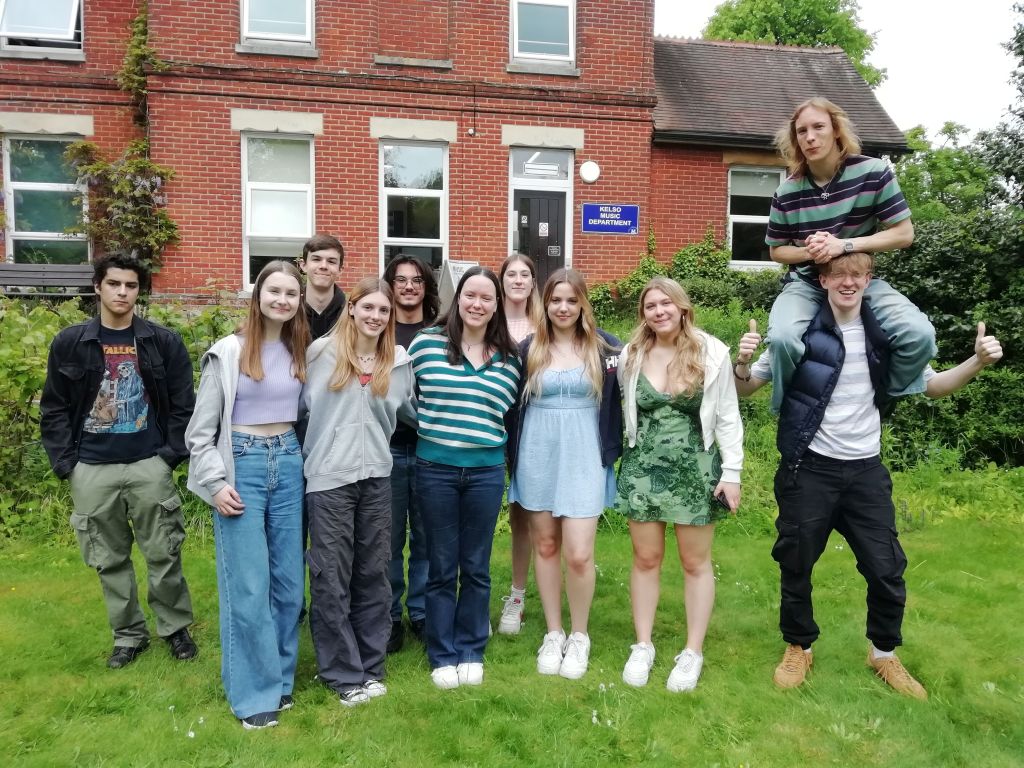 Eleven of the 12 successful students pictured outside Kelso, the College's music department.
Peter Symonds College, Winchester has announced that a record 12 students from the 2021-2023 Music cohort have obtained places at some of the world's most prestigious conservatoires including Trinity Laban Conservatoire, London, the Royal Birmingham Conservatoire and Oberlin College, Ohio, USA.
An additional 12 students accepted places to read Music at university including three at University of Oxford. Students are studying a variety disciplines including trombone, oboe, voice, guitar and percussion.
Rachel Platt, Head of Music, said: "Competition for conservatoire places is fierce with demanding entrance criteria. Applications involve gruelling auditions and incredible amounts of rehearsal and preparation. Helping students finalise their work is a real team effort. Symonds provides specialist guidance on all applications and bespoke repertoire advice and support from our team of teachers and our in-house professional accompanist Dr Samantha Carrasco. We also have an in-house professional engineer for the challenging recorded audition rounds.
"We have a proven track record in enabling students to ascend to the next chapter in their musical ambitions and are incredibly proud of every single one of their achievements. We cannot wait to hear about the next step in their musical journeys."
Pictured: from left to right:
1. Mathew Gill, guitar at Leeds Conservatoire
2. Wendy Lloyd, bassoon at the Royal Welsh College of Music and Drama
3. William Swinnerton, voice at the Royal Birmingham Conservatoire
4. Grace Lane, percussion at Trinity Laban Conservatoire
5. Alex Lidster, trombone at Trinity Laban Conservatoire
6. Alina Bartolini, oboe at the Royal Birmingham Conservatoire
7. Isabella Fairey, composition at Trinity Laban Conservatoire
8. Evelyn Byford, voice at the Royal Birmingham Conservatoire
9. Emmy Irvine, voice at Oberlin College, Ohio USA
10. Felix Lailey, music production at the Guildhall School of Music and Drama
11. Fred Harris, saxophone at Trinity Laban Conservatoire.
Not pictured: Josh Thompson, voice at the Royal Birmingham Conservatoire.
Alex Lidster said: "Conservatoire and studying music has been a dream ever since I picked up an instrument. Studying at Trinity Laban conservatoire is fulfilment of that dream and it is all due to the fantastic support offered by the music department at Symonds."
A centre of excellence for music, Symonds has an association with Steinway Pianos and offers the prestigious Hampshire Specialist Music Course (HSMC). The HSMC course is specifically designed for gifted young people who are thinking seriously about pursuing a career in music performance, and who want to combine A Level Music with extra training in performance skills.
In addition to the 2021-2023 cohort of 35 A Level students, a further 185 Symonds students were involved in music as part of the College's extra-curricular Enrichment programme. Musical enrichments on offer include: Soul Band, Big Band, Kelso Choir and Symonds Orchestra, among many others.
Posted: 13 November 2023
For further information about this article or the college in general, please contact our Marketing department by telephone on 01962 857553 or by email marketing@psc.ac.uk