Symonds Annual Christmas Carol Service takes place at Winchester Cathedral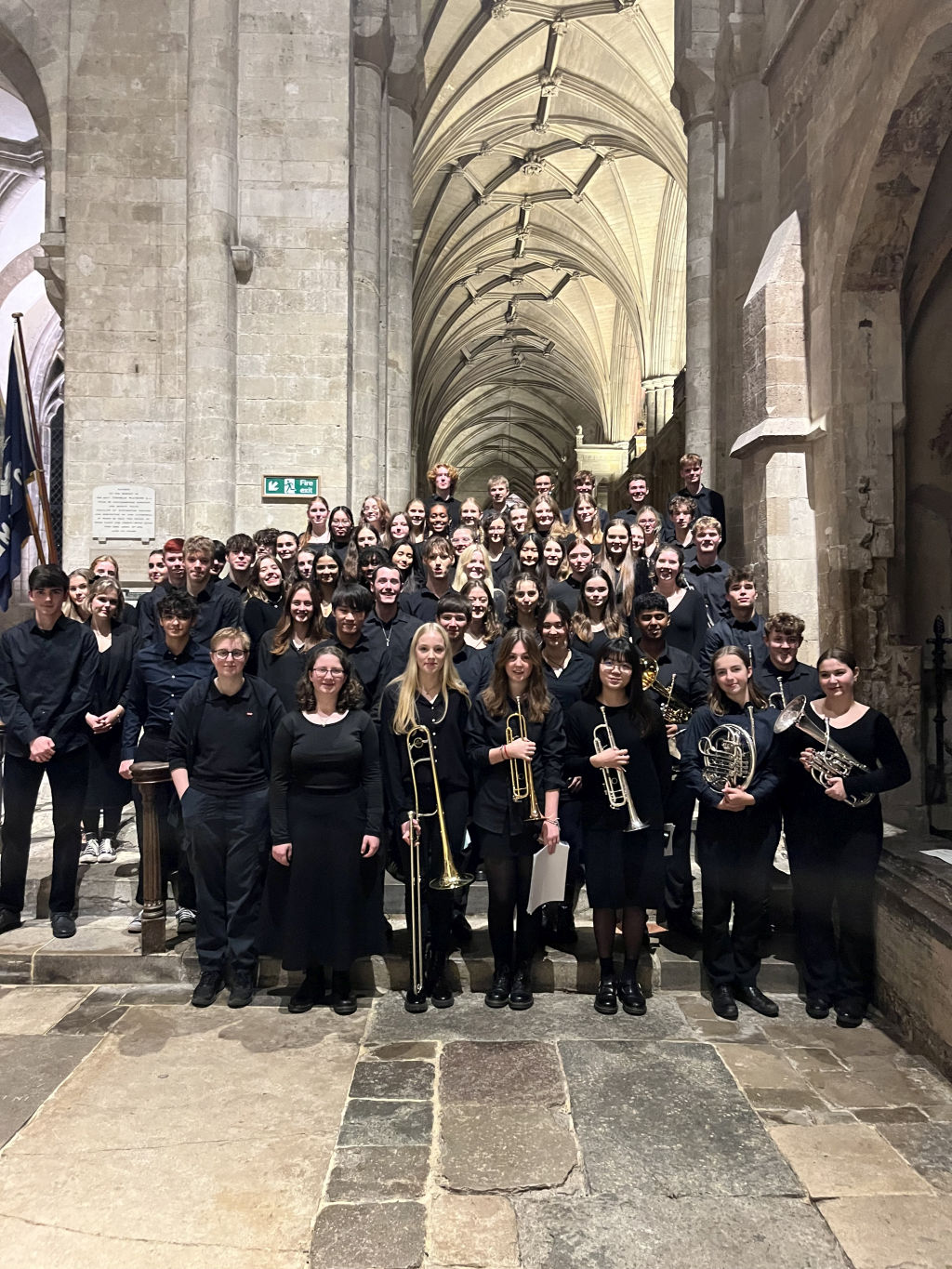 A selection of Peter Symonds students who performed at the annual carol concert
Peter Symonds College held its annual Christmas Carol Service at Winchester Cathedral on Friday 8 December. Ruth Leigh's solo opening verse of 'Once in Royal David's City' was followed by the traditional Service of Nine Lessons and Carols. Congregational carols and specially-composed choral pieces were sung by the three College choirs, and biblical readings were delivered by students.
Kelso Choir - the College's chamber choir of experienced singers - and eight-voice vocal ensemble sang works by William Mathias, John Tavener and Benjamin Britten. The College Choir sang 'Ding Dong Merrily on High' and the Staff Choir sang 'Deck the Halls'. College Brass played before the service and accompanied the carols.
Principal Sara Russell and students Callum Baker Demaria, Briannah Butler, Zac Hussain, Oscar Jarman and Jaanvi Singh delivered readings. Prayers were said by The Rt Revd David Williams, Bishop of Basingstoke.
Head of Music Rachel Platt, said: "We are proud to support our college in this enchanting annual service, where beautiful music and readings can inspire a moment of calm and a chance to reflect on our hectic lives. Our students gain so much from appearing at the cathedral, as it is such an awe-inspiring and ancient place of worship.
"We are grateful again to the cathedral for supporting and enabling our carol service to take place. A highlight of the college calendar and wonderful experience for our students, the service provides a chance for us to share meaningful music with families and friends."
Student and flautist, Shoshana Yugin-Power, said: "Performing live is an incredible feeling, nothing beats live music and the atmosphere it creates. Performing at the Cathedral is spectacular; it's absolutely beautiful and has incredible acoustics. As a young or old performer, nothing else can replicate this experience."
This year, the College has chosen to collect charitable donations for the Epilepsy Society in tribute to Naomi Irwin. Over 600,000 people in the UK have epilepsy and the charity's vision is for those with it to lead the life they desire, irrespective of whether they have been diagnosed.
Details of how to donate can be found at: https://epilepsysociety.org.uk/get-involved/donate.
-ENDS-
Posted: 11 December 2023
For further information about this article or the college in general, please contact our Marketing department by telephone on 01962 857553 or by email marketing@psc.ac.uk