Health and Wellbeing Day sets students up for exam season
Health and Wellbeing Day sets students up for exam season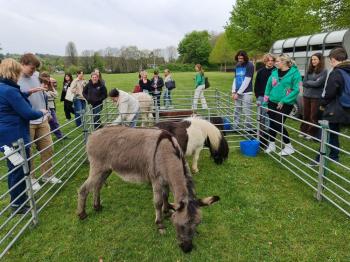 Student Services recently held a Health and Wellbeing Day for current students, with a wide range of attractions and activities aimed at promoting the importance of mental and physical health ahead of exam season.
A visiting farm allowed students to de-stress through petting pygmy goats and alpacas, grooming goats and handling guinea pigs and rabbits. A climbing wall and circus skills equipment, including unicycles, stilt walking and mini-bikes, provided active options for burning off any nervous energy and having fun.
Lots of information and advice on a variety of topics was available, including information on sexual health, bereavement support and health and fitness. Hampshire Constabulary PCs and PCSOs came along to answer questions around drugs, personal safety and crime and Hampshire Fire and Rescue cut up a scrap car, showing students what happens after an accident to emphasis the importance of road safety.
Some of the activities were aimed at teaching a new skill and preparing students for the future. Student Keira Bateman visited the South Central Ambulance Service stall, which was providing AED training, teaching students what to do in an emergency. She said, "I learnt how to use a defibrillator and I thought it was really informative. It's great to learn skills that can be useful both outside of college as well as in the classroom."
Staff from the College's support services were also on hand during the day, with staff and students from the Hub offering mental health and well being activities, ably supported by Henry the therapy dog.
Physical health and the importance of exercise and relaxation away from the books also featured highly on the agenda with multi-gym activities available in the Mercers' Sport Hall, a smoothie bike, beauty treatments by students from the Adult and Higher Education Division and music performances by our talented musicians and student bands.
The importance of making time to relax and have fun was highlighted by Upper Sixth student Katie Packer, who said, "We've spent some time doing some of the circus skills; tightrope walking and diablo. We went to see the goats and alpacas and fed them, and now we're looking forward to a go on the climbing wall. It's lovely to see everyone all out together and bump into friends. I haven't thought about exams at all while being here so that's been really nice."
Head of Student Services Liz Crouch said, "Our Wellbeing Day is a great opportunity for students to take some time out during exam season and focus on their physical and mental health. It's been a really challenging two years for everyone so it's wonderful to be able to put the event on in person once again, to remind students of the help and support available to them, and equip them with the tools and information to help them through this period. We really want to highlight to students how important it is to take care of themselves and have some fun."
Commenting on the Hampshire Fire demo student Joel Palmer said "I thought it was really interesting to see the process. With all the events going on it's been a really interesting day." Samuel Rainer-Guy agreed, saying, "It's really helped to reduce stress levels and it's been a lot of fun."
For further information about this article or the college in general, please contact our Marketing department by telephone on 01962 857553 or by email marketing@psc.ac.uk.