Congratulations to the PSC Class of 2020
Congratulations to the PSC Class of 2020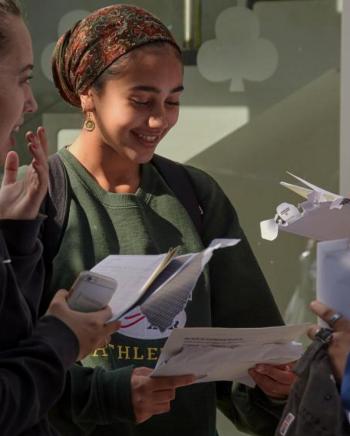 We are immensely proud of our students and of their examination achievements published today. These results are being awarded under extraordinary circumstances and not circumstances that any of us would have chosen. However, it is important to recognise and celebrate the hard work and commitment of our students over the eighteen months of their study with us.
Whilst concerns about this years' process for the awarding of grades are well known, today at Symonds is about celebrating our students' considerable achievements and ensuring that they are in a position to progress. The last minute announcements regarding changes to the appeals process will have been deeply unsettling for many students and parents at a particularly challenging time, so our priority is to help them navigate the routes open to them so that no student is disadvantaged by this year's extraordinary circumstances.
Principal Sara Russell said: "In some ways this year's results are results like no others, but just as in any other year, the students have every right to be proud of what they have achieved, and what they will now progress to do.
"It will remain a source of huge regret for us that we have not been able to celebrate these results with the students in person. Class of 2020, we are extremely proud of you and your determination."
A level results for 2020 at Peter Symonds College are as follows:
A level (full) pass rate: 98%
A level Grades A*-B: 60%
A level Grades A*-C: 81%
Help & Advice
Whilst Results Day on 13 August will be a little different this year, we want to reassure you that there will still be the same excellent support available for you in College to help you make decisions about your future plans. Full details will be available via our results service.
The Careers department will be open from Results Day onwards and careers advisers will be available for online and in-person one to one meetings which you will need to book online.
You will also be able to contact our careers department by phone on 01962 857552.
Our Heads of Faculty will also be available should you need tailored advice from them, and the Exams Office will be open for students with queries about future examination options. Again, we would advise contacting the College before visiting.
The College has ensured that there are social distancing precautions in place, so you can be assured that you can attend the site safely should you need to do so.
For further information about this article or the college in general, please contact our Marketing department by telephone on 01962 857553 or by email marketing@psc.ac.uk.