Star of BBC's award-winning documentary Climbing Blind hosts online chat for students
Star of BBC's award-winning documentary Climbing Blind hosts online chat for students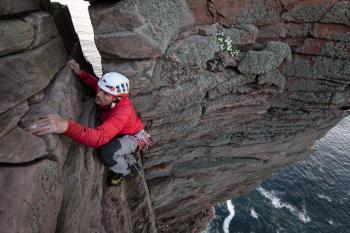 Jesse Dufton, GB paraclimber and Peter Symonds College alumnus, recently delivered a Q&A over Zoom for PSC students and teachers covering his incredible attempt to be the first blind person to lead climb the Old Man of Hoy.
Born with retinitis pigmentosa, a degenerative eye condition, Jesse can only distinguish between light and dark, meaning that as he climbs he needs to feel for foot and hand holds rather than spot them. As the lead climber, he goes first, placing gear and planning the route up a climb, and is responsible for the safety of climbers following him.
The Old Man of Hoy is a 137-metre sea stack off the Orkney archipelago in Scotland and one of the tallest stacks in the United Kingdom. Jesse's attempt to lead the climb to the summit was the subject of multi-award-winning BBC documentary 'Climbing Blind' which charts the climb from preparation to breath-taking ascent.
Through an interactive Q&A format Jesse answered questions about his climb of the Old Man of Hoy, his wider climbing career and his experience of joining and competing with the GB paraclimbing squad.
Jesse had some wise words for attendees on how he stays motivated and positive while dealing with uncertainty and unpredictable changes, echoing the challenges that many of us have faced over the past few months.
'The first stage is to accept that there are things you cannot affect or change and to come to terms with that to enable you to focus your attention on the things you can change. You can use the situation you find yourself in as an opportunity.
'Accept the uncertainty and change it around to set yourself a goal or a challenge that is positive and within your control,' he added, citing as an example his target to improve his strength training using equipment in his garage while lockdown prevented him from training outdoors.
Lower sixth student Lydia Carter said, 'I really enjoyed the talk today, and I found the Question and Answer button a very useful tool to talk to Jesse - possibly easier to ask questions than in a normal talk. He was an extremely motivating person and made climbing sound so much fun but also highlighted the difficulties and challenges he faced and overcame. I liked how he was an alumnus of Peter Symonds as that helped me connect a lot more.'
For further information about this article or the college in general, please contact our Marketing department by telephone on 01962 857553 or by email marketing@psc.ac.uk.