Bravo to our frontline students!
Bravo to our frontline students!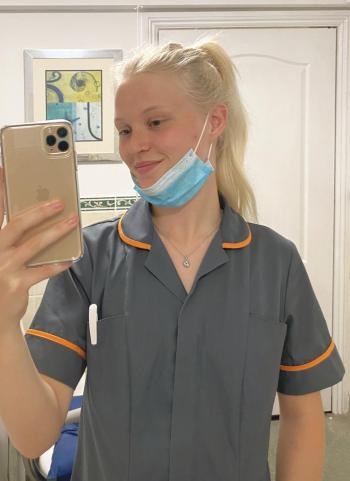 Symonds students are demonstrating their resilience in a whole host of different ways as we all work together to combat Covid 19, and Rosie Goodings is a great example of one of our many students who are going out to work on the frontline as well as juggling her college work and university applications at home.
Rosie works in a local nursing home as a Care Assistant and has been working three 12-hour shifts a week throughout lockdown caring for residents, including those with diagnosed COVID-19. Rosie said: "I have even been the only carer on one of the floors when we were particularly short-staffed. I stepped up to this level of responsibility and did not mind being so busy […] I have surprised myself with my ability to just get on with their personal care, always putting their comfort, dignity and needs before any immature feelings of squeamishness that some people might feel.
"My job is very rewarding and has taught me that I like to do something which really makes a difference," she continued. "I am looking forward to both [practical and theoretical] sides of a Nursing degree and starting my journey to a lifelong career."
Rosie is a wonderful example of a young person willing and able to play a valuable role in her local community, whilst she also prepares for her interview to study nursing at Southampton University next week. Hilary Griffiths, Head of Health and Social Care at the College, felt compelled to highlight Rosie's story.
She said: "Rosie is someone whose personal and academic skills, insight, ability to self-reflect, confidence and values make her an ideal candidate to study nursing at university. Several Symonds students studying Health and Social Care BTEC or CTEC are currently working in the community in care homes, visiting individuals through jobs with care agencies and working on wards in hospital and we are proud of them all. They are a true reflection of how well individuals develop whilst studying this subject."
We wish Rosie luck with her interview next week!
For further information about this article or the college in general, please contact our Marketing department by telephone on 01962 857553 or by email marketing@psc.ac.uk.