Head of Keyboard delivers virtual concerts
Head of Keyboard delivers virtual concerts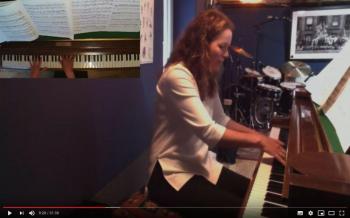 Teachers across Hampshire are going above and beyond to continue to deliver lessons and educate their students across the county, but Samantha Carrasco, Head of Keyboard at Peter Symonds, has gone one step further.
Currently unable to deliver the weekly classical concert featuring Music department students usually held in the Recital Room at the College, Samantha has set up a YouTube channel where every Thursday lunchtime she performs a classical piano concert for students past, present and future, college staff and any members of the public who would like to tune in.
Each performance begins with an introduction, giving background on the composer and in-depth analysis of the pieces selected to be performed, followed by a beautiful rendition of that week's chosen pieces.
Samantha and her husband Ted, also a music teacher at the College, have set up cameras to ensure it is possible for students to view the performance both as a performance but also as a lesson, with an overhead camera enabling viewers to watch Samantha's hands as she plays.
Commenting on setting up the online concert series Samantha said, "During term time, every Thursday lunchtime Symonds music students perform a variety of classical pieces for their peers and staff at the College to enjoy. This is always well received and it seemed a shame not to be able to continue.
"Part of the impetus behind the online concert was to remain connected with and to continue performance for both our Upper Sixth Music students, many of whom are planning to go on to study Music at top conservatoires and universities, and for our Lower Sixth students, who are missing out on developing crucial performance skills.
"I also hope that prospective A level Music students tune in to get a feel for the style of teaching at A level and to help them keep their focus and motivation during this uncertain time," she continued.
"And of course finally, in the same way that the lunchtime concerts previously provided a pleasant break in the College day, these concerts may provide a brief but welcome respite from the worries and pressures we are all currently facing, and some continuity and reassurance for our students and staff."
In addition to her role as Head of Keyboard at the College Samantha is an examiner, trainer and moderator for ABRSM and an orchestral pianist with the Bournemouth Symphony Orchestra. She continued the Thursday Lunchtime Concerts over the Easter holidays and will keep them going until the College reopens. Tune into her performances on YouTube on the link below.
For further information about this article or the college in general, please contact our Marketing department by telephone on 01962 857553 or by email marketing@psc.ac.uk.