College Careers Day inspires students
College Careers Day inspires students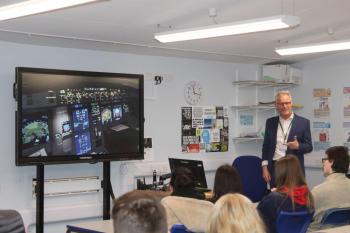 The College recently held its annual College-wide careers day, giving students the opportunity to attend talks by experts from a range of businesses, organisations and universities.
Students had the opportunity to listen to and ask questions of professionals from a variety of industries, including the armed forces and emergency services and leading figures in journalism, IT, medical professions, aviation, finance and law.
Alongside talks students had the opportunity to get involved with a number of interactive sessions, including speed networking sessions in law and architecture and workshops from Mel Parker Point Blank Music School and Edil Quin Dance.
Joanna Beattie-Edwards, Legal Director at Womble Bond Dickinson (UK) LLP took part in the legal sector speed networking session and said "I was delighted to be involved again in talking with PSC students to explain the different pathways to a career as a solicitor. It is always great to see the enthusiasm of those starting their career journey and this year was no exception."
The talks and networking events were spread over the College day with students expected to sign up for at least four sessions. Over 150 speakers visited the College to deliver nearly 250 talks ranging from animation, advertising and film production to pharmacology and becoming an entrepreneur.
Speakers included a team from ITV Meridian News, including journalist and presenter Christine Alsford; film producer Dean Baker of Hardy Son and Baker; author Richard Hardie; and animator Faye Brown, who commented, "It's nice to give something back. There was nothing like this when I was at college and I think it's a great idea to give students a chance to investigate the range of careers available in the design industry."
Parent and speaker Paul Pressland from 10 Ant Group Property Development added "The lifeblood of any organisation is the next generation and a day like this shows how the industry is multifaceted and offers something for everyone. If one person is gets out of today's talk the inspiration to make a successful career that would give me great satisfaction."
Debbie Mahoney, Head of Careers at Peter Symonds, said "We have been able to build on the huge success of the event which started last year and increase the range and number of talks available to students. Many of the visitors were parents and alumni, talking about their career journey and occupational areas. Students got to attend at least four different talks, helping to widen their knowledge and understanding of options available to them.
"We really are extremely grateful to all the visitors who supported the event and made this such a huge success."
Student Selin Kiran said "It was great to meet professionals with years of experience who gave up their time to come and talk to us. It gave us a realistic and true portrait of the careers we're interested in." Toby Clark added "It was really useful for me to find out more about the career I know I want to go into, but also really useful for people who don't know what they want to do to explore their options."
"It was so helpful," added student Rhia Gill. "There was such a big range of talks. It was good to speak to both representatives from universities and to people actually doing the jobs I am interested in, and helpful for planning ahead."
This event will be followed up by the Progression Fair in the Sports Hall on Tuesday 3 March, where students will be able to attend the Fair during their study periods and breaks. There will be nearly 100 exhibitors, including universities, local and national employers and organisations.
For further information about this article or the college in general, please contact our Marketing department by telephone on 01962 857553 or by email marketing@psc.ac.uk.