Symonds students celebrate 54 Oxbridge offers
Symonds students celebrate 54 Oxbridge offers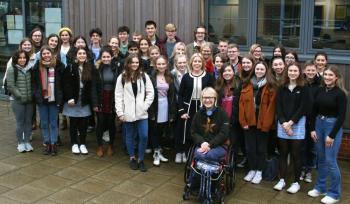 Students at Peter Symonds College are celebrating a remarkable 54 offers to study at the universities of Oxford and Cambridge. Students from 23 different secondary schools have received 33 offers from the University of Oxford and 21 offers from the University of Cambridge, proving once again that the college is the perfect place for ambition.
Principal Sara Russell said, "This is an incredible achievement for our students and we are delighted to share in their success. They have gone above and beyond in their studies and worked exceptionally hard, and it's wonderful to see their talent and ability gaining the recognition it deserves.
"Peter Symonds welcomes a diverse range of students from a variety of backgrounds, and as a non-selective state sixth form we are proud of the opportunities available to all our students. Our dedicated Oxbridge tutor and experienced staff work hard to provide students who are aspiring to attend Oxbridge with the very best support to achieve that ambition. It's very rewarding for the whole team to see so many of those dreams realised year after year."
Former Westgate student Lauren Gargan secured an offer to study Engineering at Pembroke College, Oxford. She said "[The process] was such a lot of hard work. This time last year I hadn't even considered applying to Oxford and here I am now. I'm really excited."
Lara Clarke, who previously attended Kings School in Winchester and is planning to read Psychology and Linguistics at Oxford, said "It's a really weird feeling. Oxford has been in the back of my mind for so long and I've spent so much time trying to desensitise myself to the process that it's now hard to believe it's happening."
Sabina Labrow, Peter Symonds' specialist Oxbridge tutor, added, "I am so proud of our hard-working students and the way in which they made the most of the opportunities available here at Peter Symonds. They questioned and debated in extra-curricular activities, they practised for entrance tests in subject workshops and they overcame their fears during practice interviews. Working with these students both in groups and individually is an absolute pleasure."
Students from Peter Symonds have received offers to study a diverse range of subjects at a variety of Oxbridge colleges. Sabina added, "This year saw seven History students and seven English students receive an offer: a fantastic achievement given the competition to read essay writing subjects at Oxbridge. Elsewhere in the sciences, seven of our Mathematics and Physics specialists received offers whilst twelve of our Biology and Chemistry students were successful including four 'Future Medics'."
Deputy Head of History Gilly Walker commented "This is an exceptional achievement for both the students and the History Department. The students have worked incredibly hard over the whole of their time at College, taking full advantage of all the support and enrichment available, in particular the weekly Oxbridge History discussion group."
Student Amy Moorhouse, holding an offer to study History and Politics at Pembroke College Cambridge, added "I never thought I would go [to Cambridge] …it's like a dream!"
Peter Symonds is the top sixth form college in Hampshire for students achieving the 'golden AAB grades'. In 2019 1,533 students progressed to university, with 543 students accepting places at the top 'Russell Group' universities.
Peter Symonds is a non-selective state sixth form college and one of only two state institutions listed in the top eight contributors of students to Oxford and Cambridge nationally in a Sutton Trust survey. Since 2000, an average of 47 Peter Symonds students per year have been offered places at Oxbridge. At any one time, there are over 150 ex-Symonds students studying at Oxford and Cambridge.
For further information about this article or the college in general, please contact our Marketing department by telephone on 01962 857553 or by email marketing@psc.ac.uk.