70 students qualify for AoC National Sports Championships
70 students qualify for AoC National Sports Championships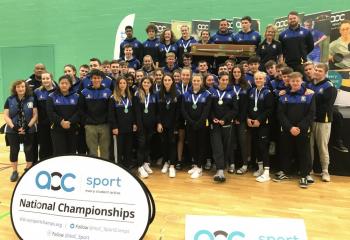 The College's Sports and Enrichment Department is celebrating the achievement of 70 students, who have qualified for the Association of Colleges (AoC) National Championships, to be held in Nottingham in April.
The 70 students form the largest representation from any College in the South East by a considerable margin.
Students from Peter Symonds will be representing the College and the South East in the following sports:
Women's Cross Country (3 students)
Men's Cross Country (3 students)
Men's Golf (3 students)
Women's Golf (1 student)
Men's Rugby Team
Men's Tennis (3 students)
Men's Volleyball Team
Mixed Hockey Team
Women's Badminton (2 students)
Women's Tennis (2 students)
Women's Volleyball Team
Samantha Jones, Head of Enrichment (Sports Teams) and Sports Co Ordinator at Peter Symonds, said "Peter Symonds College has a strong tradition of sporting excellence and the capability to send 70 of our students to compete in the AoC National Championships reflects both the sporting talent of our students and the support and time our staff devote to sport at the College.
"We are dedicated to ensuring that as many students as possible have the opportunity to compete in the sports they are passionate about at a national level and we are excitedly looking forward to celebrating their achievements at the Championships in April."
The AoC National Championships will take place at Nottingham University from Friday 24 - Sunday 26 April.
For further information about this article or the college in general, please contact our Marketing department by telephone on 01962 857553 or by email marketing@psc.ac.uk.