Biology students take part in TOXIC!QT at Southampton General Hospital
Biology students take part in TOXIC!QT at Southampton General Hospital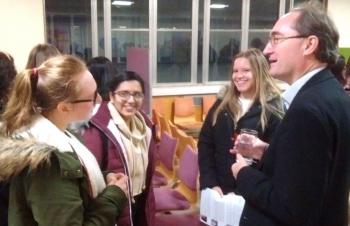 A group of Lower Sixth Peter Symonds College students attended an event titled TOXIC! Question Time at the academic block of Southampton General Hospital where they were able to fire questions at a panel of experts on the subject of toxins in our environment.
The panel of experts included Prof Graham Roberts, a paediatric allergy and respiratory medicine consultant; Oceanographer Dr Simon Boxall; Dr Lucy Green, Associate Professor in Developmental Psychology, who chaired the event; Professor Alan Boobis OBE, Professor of Toxicology at Imperial College; Professor Mary Barker, Professor of Psychology and Behavioural Science at the University of Southampton; and Shante Jackson, Itchen College student and a member of youth parliament.
The panel answered questions from a student audience on the subject of toxins in the air, water and food and the issues around this subject, including air pollution, global warming, allergies, veganism and many more. The students had developed their questions after an earlier visit to the Institute of Developmental Sciences in October where they met academics in various fields and toured laboratories to inform their ideas on this hot topic.
For further information about this article or the college in general, please contact our Marketing department by telephone on 01962 857553 or by email marketing@psc.ac.uk.