Music students tour Steinway Hall
Music students tour Steinway Hall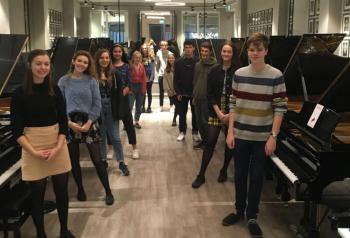 Piano students from Peter Symonds College Music Department travelled to London to participate in and observe a master class at Steinway Hall, and experience a tour of the Steinway workshops with an amazing opportunity to try the Steinway pianos housed there.
Accompanied by Sara Russell, Principal, and Samantha Carrasco, Head of Keyboard, the three students performing in the master class with Charles Owen, Steinway Artist, were Hanna Csermely, who performed Sonetto 123 del Petrarca by Liszt; Lydia Jones, who performed Rachmaninoff Polichinelle; and Jasmine Arnold, who performed Rachmaninoff Prelude in E flat major opus 23 no 6.
Students Archie McMorran and Archie Thornton enjoyed an opportunity to perform Mendelssohn on the Steinway Spirio piano, which recorded their performance and played it back with astonishing accuracy. Commenting on the experience they noted, 'It was amazing how realistic the playback is - it follows every tiny movement you have made, including 150 different pedal positions and the depth of touch on every individual key.'
Student Jacob Hartley added 'It was really interesting to hear how all the materials are chosen so carefully for specific purposes - for example the wood for the soundboard can't have any knots in it and it takes three years to season.'
Sam Carrasco, Head of Keyboard at the college, said 'This was a fabulous opportunity for our students to explore the finesse of Steinway pianos, and understand the richness and calibre of their tone.'
Rachel Platt, Head of Music, added 'I know how much our piano students enjoyed this trip, and how it helped expand their knowledge of the range of tone colours a wonderful piano can produce.'
For further information about this article or the college in general, please contact our Marketing department by telephone on 01962 857553 or by email marketing@psc.ac.uk.