College hosts Hampshire Geographical Association Conference
College hosts Hampshire Geographical Association Conference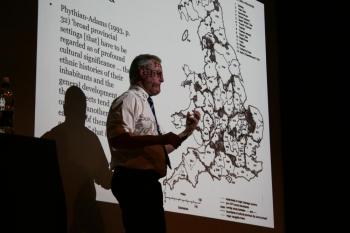 170 students and teachers from nine different schools and colleges attended the annual Hampshire Geographical Association A Level Conference at Peter Symonds College, Winchester.
Students enjoyed pizza before the conference, during which they met representatives of Portsmouth, Southampton and Winchester Universities to find out more about opportunities to continue their geographical studies at degree level.
The first speaker was Dr Jurg Matter, Associate Professor in Geoengineering within Ocean and Earth Science, National Oceanography Centre Southampton at the University of Southampton. He spoke about the latest research on carbon capture and storage as a climate change mitigation technology. He shared his recent success in turning carbon dioxide into stone in Iceland, which has the potential to sequester all anthropogenic carbon dioxide in the atmosphere. He also explained his latest projects to monitor and account for any carbon escaping from deep ocean storage.
Dr Andrew Hinde, Associate Professor in Demography within Economic, Social and Political Sciences at the University of Southampton also spoke at the conference. His talk was 'Why historical geography matters: ghosts from England's past geography'. He spoke firstly about how the past is the key to the present. He gave the examples such as how historical malaria in eastern England led to a dependency on opioids in this region, not reflected in the rest of the UK, and how the distribution of the free peasantry in the Doomsday Book closely matches those areas that voted most strongly for Brexit. He developed these ideas to show how history can create long-lasting geographical differences, and evidenced this by looking at the roots of a cultural north-south divide in the UK. Finally, he gave examples of how past events contribute to the meaning of places, which is very relevant to the current A level syllabus.
Paul Wraight, Head of Geography at Peter Symonds College, said, 'This was another incredibly successful and interactive conference with both talks leading to lots of questions from the audience. As always, we are very grateful to our speakers for volunteering their time and to all the teachers that brought students to the conference.'
For further information about this article or the college in general, please contact our Marketing department by telephone on 01962 857553 or by email marketing@psc.ac.uk.