Music students celebrate excellent ABRSM results
Music students celebrate excellent ABRSM results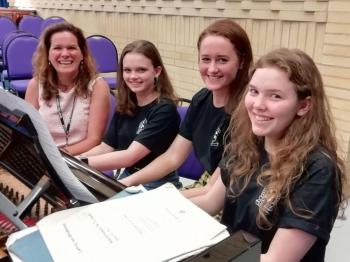 The Music Department at Peter Symonds College is celebrating the amazing achievement of its student pianists in recent ABRSM exams. All four of the students taking an ARSM Diploma or Grade 8 received very high Distinctions, only a couple of marks off full marks. They all played to a professional standard, and the examiner described the day as 'like going to a concert'.
Head of Keyboard, Samantha Carrasco, said: 'We have had a great influx of piano students enrol this year, with Piano Club continuing to flourish, and we have been invited back to Steinway Hall to take part in their masterclass series in London in November'.
Jasmine Arnold, one of the students on the Hampshire Specialist Music Course, said 'It's such a relief to have done so well after all the hard work.'
Rachel Platt, Head of Music, added, 'We were thrilled to welcome Samantha Carrasco to the Music Staff last year, and these exceptional results are testament to her wonderful teaching and many hours of practice among our piano students.'
Students Jasmine Arnold, Juliette Ashman and Lydia Jones all gained Distinctions in their ARSM Diploma, and Laura Leigh gained a distinction in her Grade 8 exam.
For further information about this article or the college in general, please contact our Marketing department by telephone on 01962 857553 or by email marketing@psc.ac.uk.