College celebrates a year of achievements at Awards Evening
College celebrates a year of achievements at Awards Evening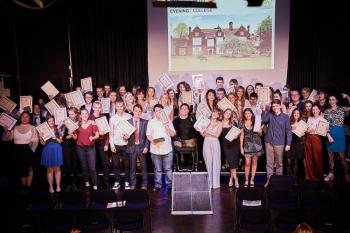 Peter Symonds College staged its annual Awards Evening to pay tribute to the achievements of 77 students. Staff, students and their friends and families were joined by guest speaker Alex Lewis to celebrate the talents, both academic and personal, of the whole 2019 year group.
Among the audience celebrating the successes of the students were sponsors from local businesses, schools and universities, together with parents, teachers and governors.
Chair of Governors Tim Rogerson welcomed the audience to the College and praised the efforts of students of 2017-2019 and the staff who had supported them. Principal Sara Russell then gave an overview of the year, noting some of the highlights, including their excellent exam results but also their impressive accomplishments which went far wider than just the academic and included sport, activities and the arts.
Sara welcomed guest speaker Alex Lewis, saying: "We are enormously privileged and honoured that you have given up your time so freely to help us celebrate the enormous successes of so many young people, each and every one of them a member of the Peter Symonds Family."
Alex Lewis, who was a student at Symonds just over 20 years ago, returned as the guest speaker and gave an inspirational, moving and witty account of his experience living with quadruple amputation after contracting Strep A.
Discussing the highs and lows of his rehabilitation, Alex explained that his illness and recovery sparked a desire to help people, and described how he now spends much of his time working with universities to develop prosthetics and technologies to help disabled people. He talked about his achievements since his illness, including raising £50,000 to establish a wheelchair manufacturing facility in Ethiopia, which will manufacture affordable wheelchairs and employ local people living with disabilities.
Alex told the audience "You just don't get second chances – I am an anomaly. I'm very privileged to get a second chance and I intend to grab it. You guys going on to university, work, travel, just take every and any opportunity. Grab it, no matter how ridiculous."
Alex concluded his talk by saying "This is a fantastic grounding, a foundation to build on. For you moving forward, you've had one of the best educations in the UK, and I've no doubt you will go on to do some incredible things."
For further information about this article or the college in general, please contact our Marketing department by telephone on 01962 857553 or by email marketing@psc.ac.uk.