Former Peter Symonds student awarded Young Business Person of the Year
Former Peter Symonds student awarded Young Business Person of the Year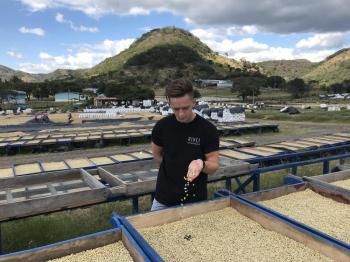 Former Peter Symonds 6th Form College and Adult Education student Will Harrigan has been awarded 'Young Business Person of the Year' at the 2019 Winchester Business Excellence Awards.
Will, a Founder and Director at River Coffee Roasters, beat strong competition from businesses across Winchester to win the 'Young Business Person of the Year' award.
River Coffee Roasters supplies businesses with coffee sourced and roasted directly from producers. The company has a strong focus on providing opportunity and sustainability for the producers they buy coffee from and donates a proportion of revenue to communities who could benefit from social and environmental support.
Will studied Biology, Health and Social Care and Communication and Culture at the 6th Form College and returned to the Adult and Higher Education Division where he obtained a 1st Class Honours degree in Business in 2017.
Will said "Studying at Peter Symonds, through 6th Form and Adult and Higher Education, gave me important social and academic skills that I've used to form the foundations for River Coffee Roasters. I'm very grateful to everyone who I met during my time at Peter Symonds for being a big part of my personal progression and River's first year success."
Commenting on the awards, Alex Day, Director of Adult Education at Peter Symonds, said "Will focussed his final year degree project on the importance and perception of Corporate Social Responsibility in the coffee industry. It is great that his research provided the foundations for development of an exciting new business. We are thrilled for his well-deserved award win and hugely proud of his success."
The Winchester Business Excellence Awards are organised in partnership by The Hampshire Chronicle, Hampshire Chamber of Commerce and Winchester BID and are open to businesses within the Winchester District. This year's awards were held at the University of Winchester and presented by Jeremy Edwards, with comedian Shappi Khorsandi as the guest speaker.
For further information about this article or the college in general, please contact our Marketing department by telephone on 01962 857553 or by email marketing@psc.ac.uk.