Symonds students returning home to the remotest settlement on Earth
Symonds students returning home to the remotest settlement on Earth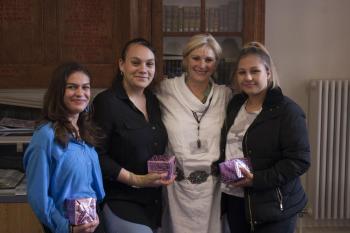 Students and staff at Peter Symonds College are saying their goodbyes to three students who will be returning to their homes on the remotest settlement on the planet, Tristan Da Cunha, on completion of their A levels.
Students Jade Repetto, Janice Green and Rhyanna Swain travelled from the islands of Tristan Da Cunha in the South Atlantic to Peter Symonds College in Winchester to board at the college while they studied for post-16 qualifications.
Tristan da Cunha is a remote group of volcanic islands in the south Atlantic Ocean and the most remote settlement in the world, lying approximately 1,343 miles from its nearest neighbour, Saint Helena. With a population of roughly 250, limited resources and an intermittent internet connection the islands cannot support post-16 education either in school or through online study and so students must travel abroad to further their studies.
The islands are reachable by a six-day boat trip from Cape Town, but due to the irregularity of boat departures the students have not been able to return home since arriving in Britain in the summer of 2017, as the return journey would take too long to complete.
Jade, who is studying A levels in Business, Classical Civilisation and English Language and Literature; Janice, studying A level Business, A level Product Design and a BTEC Subsidiary Diploma in Sport; and Rhyanna, studying A Level English Language and a Diploma in Health & Social Care, are the first inhabitants of Tristan Da Cunha to make the journey to Britain for their education in nearly 30 years. Janice said "My mum studied in Britain and encouraged me to grab this experience, as it was my one opportunity." Rhyanna added "Being the first in a number of generations to come away to further my education feels like a big achievement."
Adapting to life in the UK went smoother than the students expected. Jade said "Our expectations were based on what we'd seen on TV. I'd never got a train before, and the first time I heard one go past it sounded like an earthquake! We settled into College quickly and everyone was so welcoming we soon felt at home, but it probably took about 6 months to adapt and feel confident off campus." Rhyanna added "I found traffic jams a bit of a shock and the numbers of people overwhelming at first."
All three students admitted to missing their family and friends, with Rhyanna adding how much she misses the sea; "You can see and hear and smell the sea all over the island and hear the waves crashing," and the others agreeing.
Reflecting on the experience Rhyanna said "Our house parents have been incredibly supportive, like second parents. It's been an amazing experience to live in an environment with so many people our own age."
Jade said "I've made friends for life and had experiences and opportunities I would never have had otherwise. Friends we've made boarding are like family and I've met such a diverse group of people from across the world." Janice added "My confidence has really grown and I'm so much more independent. If I hadn't taken this opportunity I'd have regretted it."
The students plan to spend some time at home in Tristan Da Cunha for a year or two before returning to the UK to continue their education, with Jade and Janice considering apprenticeships and Rhyanna a career in nursing.
Julia West, Head of Boarding at Peter Symonds, said "Jade, Janice and Rhyanna have embodied the attitude that education is a privilege and grasped the whole experience. During their time here they have created their own sense of community and we have learnt as much from them as they have from us. I'm in awe of their strength and resilience and always positive outlook. We will miss them very much."
Peter Symonds Principal Sara Russell said "Over the last two years Jade, Janice and Rhyanna have embraced College life and always demonstrated the utmost commitment to their studies and extra-curricular activities. They've made a wonderful contribution to the College and we wish them all the best for the future."
For further information about this article or the college in general, please contact our Marketing department by telephone on 01962 857553 or by email marketing@psc.ac.uk.