A fun filled day of Boccia and New Age Kurling for Hampshire children with additional needs
A fun filled day of Boccia and New Age Kurling for Hampshire children with additional needs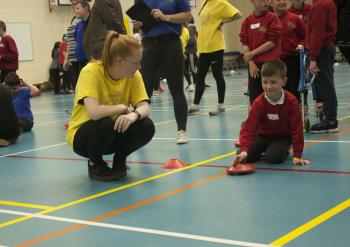 Over 100 children with additional needs from specialist schools across Hampshire travelled to Peter Symonds College for a fun filled day of Boccia and New Age Kurling. The day was organised by Peter Symonds students studying the Sports Leaders Level 3 course, where students work with children, the community and participants with disabilities to build leadership skills through sport.
12 students from Peter Symonds organised and took part in the event, supported by 30 Sport Leaders students from The Westgate School in Winchester.
Students from local specialist schools including Dove House School, Great Oaks, Limington School, Samuel Cody Specialist Sport College, Osborne School, Icknield School, Cedar School and Treloar School competed in a Boccia tournament in the morning followed by New Age Kurling later in the day.
Icknield School's Team A were victorious in the primary school Boccia tournament, while Samuel Cody School Team P took the top spot in secondary school Boccia. Icknield School's Team A continued their winning run in the primary school New Age Kurling with Osborne School Team G in first place in the secondary school competition.
Participants from the teams finishing in the top three in each category were presented with their medals by Mayor of Winchester Cllr Frank Pearson, who also spent some time chatting with participants during the tournament. Mayor Pearson said "I love attending events like these, it's one of the joys of the role. Everyone gets involved and I'm a big advocate of the opportunity for individual excellence and doing better."
Steven, a pupil from The Samuel Cody Specialist Sports College in Farnborough, said "I've had a really nice time. I enjoyed the kurling better [than boccia]. It was nice to spend time with other schools and other children from my school."
Clare Powell, a teacher at Icknield School in Andover, added, "It was an enjoyable day, with lots of enthusiasm from the children and lovely support from Symonds students. Sport is so important, both for interaction with other children and as an opportunity for our children to excel."
Hannah Alsop was one of the Peter Symonds Sports Leaders who organised the event. She said "The event went well, the children seemed to have fun and the sports leaders had a good time organising everything. The Sports Leaders course is really rewarding - it's really nice to see how much the children appreciate us volunteering and enjoy the activities we do with them. It's given me confidence, patience and really makes me think about the children involved."
For further information about this article or the college in general, please contact our Marketing department by telephone on 01962 857553 or by email marketing@psc.ac.uk.