Record result for Peter Symonds' young Chemists in Chemistry Olympiad
Record result for Peter Symonds' young Chemists in Chemistry Olympiad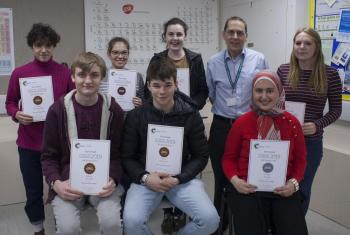 Chemistry students at Peter Symonds College are celebrating their best ever results in the national Chemistry Olympiad. Eleven Chemistry students from Peter Symonds College sat the Olympiad paper this year, and all achieved awards, including five Golds, three Silver and three Bronze, a new college record.
Run annually, The Chemistry Olympiad is the leading chemistry competition for students in secondary education across the UK. The Olympiad is an opportunity for teachers to challenge their chemistry students, helping them to develop creative thinking, and apply their existing knowledge in new and interesting contexts.
Silver medal winner Alyaa Atta said "The Chemistry Olympiad has been a great experience and was very stimulating. It helped me improve my analytical and problem solving skills, which are essential in my further studies, and I have gained a sense of perseverance through the experience when working with Chemistry problems. I am grateful for the support I have received from my parents and Chemistry teachers."
Chemistry teacher David Francis said 'It's been a privilege to work with such a keen, bright group of students. I'm delighted with these results.'
These results round off an extremely successful run for all three Peter Symonds science subjects in their respective Olympiads - Biology, Chemistry and Physics - this year. Students have been awarded medals in each Olympiad, with Physics student Chris Lotery being selected to represent Great Britain at the International Physics Olympiad in Tel Aviv in July.
For further information about this article or the college in general, please contact our Marketing department by telephone on 01962 857553 or by email marketing@psc.ac.uk.