Astrophysicist Dr Sadie Jones delivers out of this world lecture on Supermassive Black Holes
Astrophysicist Dr Sadie Jones delivers out of this world lecture on Supermassive Black Holes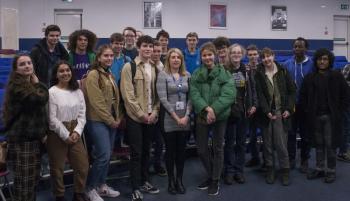 Peter Symonds College recently hosted a fascinating talk by Astrophysicist Dr Sadie Jones, Outreach Leader in Astronomy at the University of Southampton. Dr Jones visited Peter Symonds to talk about her experiences in the field of Astrophysics and in particular her research into black holes.
Dr Jones completed an MPhys in Astrophysics at Cardiff University and graduated with a PhD in Radio Astronomy from the University of Southampton in July 2012. She visited Symonds to deliver a talk to a packed lecture theatre on her research into an active supermassive black hole at the centre of the galaxy NGC 4051, followed by a question and answer session.
Comments from students who attended the talk included: "I'm studying HE+ Physics so this linked in well and it's great to be able to further that knowledge"; "I'm not studying Physics, but I've always been interested in it and wanted to find out more. Sadie explained it all so well and it's great to have opportunities to develop my knowledge across a range of topics, even in subjects I don't study"; "It was highly inspiring and fascinating – it's just a small snippet but it's pushed me further in the direction I'd like to take and helped to maintain my interest."
Speaking after her lecture, Dr Jones said "Black holes and astronomy are interesting areas and a good place to start to get people interested [in Physics]. There were some great questions and the students had obviously thought about the topic intently."
She went on to say "Currently only 20% of Physics undergraduates are female so talks like this are a great way to promote the subject and to make women in science more visible."
For further information about this article or the college in general, please contact our Marketing department by telephone on 01962 857553 or by email marketing@psc.ac.uk.