16000 mile round trip for Peter Symonds Principal
16000 mile round trip for Peter Symonds Principal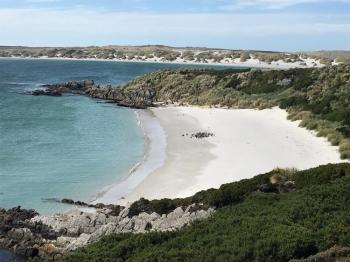 Peter Symonds Principal Sara Russell recently returned from a 16,000 mile round trip to the Falkland Islands to meet with prospective and past students, and the parents of students currently boarding at the College. Peter Symonds acts as a sixth form for Falkland students who travel to the UK to board at the College and continue their education.
Ms Russell spent time meeting with year 10 and 11 students and their parents, met with representatives from the Islands' Education Office, Falkland Islands Community School and the Training Centre in Stanley, and was treated to a tour of East Falkland Island sites and nature reserves.
Commenting on her trip, Ms Russell said "Peter Symonds College has a long history of over 30 years providing educational opportunities to students from the Falkland Islands. Visiting the Islands helps to develop a better understanding of where our students come from, their experiences and the best way we can support them during their time with us. Travelling 8000 miles from their friends and family to further their education shows immense courage and resilience and I am always impressed by the enthusiastic way they embrace College and life in the UK.
"It was wonderful to meet so many former Symonds students, emphasising the importance of our long standing links with the community there and the responsibility the College has to continue this unique link.
"The Islands themselves were absolutely beautiful and I was lucky to have a little time to explore. Highlights included the beautiful windswept scenery, King and Rockhopper penguins and the Historic Dockyard Museum in Stanley. The warmth and friendliness of the Islanders everywhere I went made me feel very welcome.
"I'm very grateful to the Government of the Falkland Islands for the opportunity and to all the Islanders I met who took time to speak with me, show me around and take such good care of me during my visit."
For further information about this article or the college in general, please contact our Marketing department by telephone on 01962 857553 or by email marketing@psc.ac.uk.