Leading cellist judges Symonds Young Musician Festival Final
Leading cellist judges Symonds Young Musician Festival Final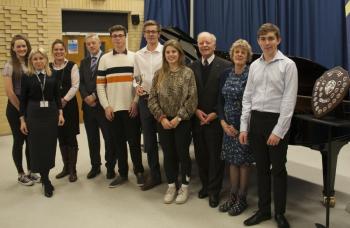 Five students from Peter Symonds College Music Department competed in the Outstanding Performances Classical Final of the College's Young Musician Festival.
William Bruce, Head of Strings at Junior Guildhall and Sub-Principal Cellist of the English National Opera, adjudicated at the recital and awarded the Christes Hospitall Shield for the best performance.
The performers were Sam Booth on the Cello; Juliette Ashman, Voice; Lydia Jones, Piano; Jonny Green, Clarinet; and Morgan Taylor, Trombone. Performers were accompanied by Samantha Carrasco, Head of Keyboard, who organised the festival. After deliberation, Mr Bruce commended Morgan and Juliette for their performances before awarding the shield to Jonny for his "spritely, fun, well-shaped piece which satisfied both head and heart."
Commenting on the recital, Mr Bruce praised all the performers and said "Today's performances reflected a natural, nurturing atmosphere, evident as soon as I walked in. The Music Department has an incredibly positive ethos which makes for a fertile bed for talent like this. All the performers played with a natural, warm engagement."
The recital was sponsored by the Christes Hospitall School Foundation, represented by Michael Vokes, who described the recital as "a set of amazing, spirited performances."
Rachel Platt, Head of Music, added: 'We are so proud of our performers, and with 10 conservatoire places and 18 university places awarded to our second year A level students this year it's a record-breaking year for the department.'
For further information about this article or the college in general, please contact our Marketing department by telephone on 01962 857553 or by email marketing@psc.ac.uk.