Symonds Students Look to the Future
Symonds Students Look to the Future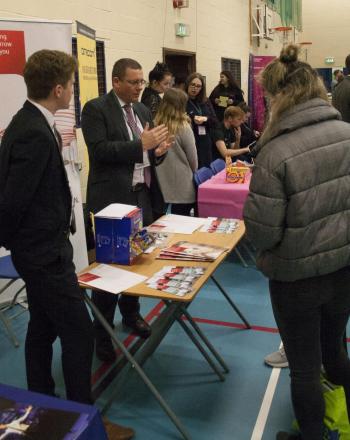 Over 2000 students from Peter Symonds and local schools visited the College's annual Progression Fair, with over 85 universities, businesses and organisations available to showcase a range of career and education opportunities post-18.
A diverse range of exhibitors offered information and advice on degree courses, higher and degree apprenticeships, training, employment and practical information.
A number of leading businesses including Nationwide Building Society, AWE, Fujitsu, JP Morgan, Simply Health and PWC among others attended, and many took advantage of the opportunity to showcase their apprenticeship schemes. A team of apprentices on the ExxonMobil Chemical Limited apprentice programme described the event as "Really helpful – it allows us to bring apprenticeship scheme members with us to explain to students exactly what an apprenticeship entails and why it was a good choice for them."
Universities from around the UK were also well represented. Robbie Pickles and Rebecca Daly from the University of Bath said "It's important students can make informed decisions and have all the information they need, especially around admissions requirements and qualifications. This event has an advantage over an Open Day as it gives us an opportunity to discuss options with students who may not yet have a clear idea of what they want to do."
Service personnel from the RAF, Army and Royal Navy and representatives from Hampshire Constabulary, Hampshire Hospitals NHS Foundation Trust and Hampshire County Council were all available to speak with students.
Some of the comments from students on the event included: "I've been trying to decide between university and an apprenticeship, and this event has given me an opportunity to speak with businesses about the different types of apprenticeships available and how they compare with the route through university. It's really helped me make my mind up." "A really good mix of stalls and exhibitors." "A useful opportunity to connect with the universities I'm interested in." "It's helped to clarify my thoughts around my next steps."
Debbie Mahoney, Head of Careers at Peter Symonds, said, "This has been another successful event and we are delighted with the positive turn out from students and the vast range of exhibitors attending. We really want to make sure that all students are aware of the options available to them and make an informed decision on what is the best route for them."
Natalia Wielkopolan, currently taking part in Virgin Media's Apprenticeship Scheme, graduated from Peter Symonds last year and was passionate about the opportunity the Progression Fair offered students. "Having been in a similar position to these students this time last year, I thought this was a good chance to share my experience of taking up an apprenticeship straight from A level and to help students considering the apprenticeship route."
The Progression Fair took place during National Apprenticeship Week, which aims to showcase all the incredible opportunities an apprenticeship can offer to individuals keen to start their careers. The Progression Fair follows on from the College's recent Careers Day, where over 170 talks and speed networking sessions were delivered by leading industry professionals, local employers and organisations to help students explore future career choices.
For further information about this article or the college in general, please contact our Marketing department by telephone on 01962 857553 or by email marketing@psc.ac.uk.