Clutch of Biology Olympiad medals for Symonds students
Clutch of Biology Olympiad medals for Symonds students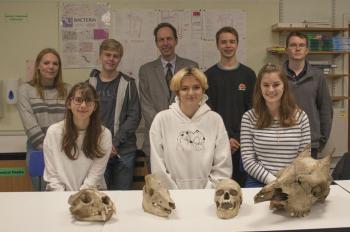 Peter Symonds Biology students are celebrating a clutch of medals in the British Biology Olympiad, the largest national biology competition for sixth formers, organised by the Royal Society of Biology.
The team from Peter Symonds took home three Gold, four Silver and two Bronze medals, with two further students Highly Commended.
Gold medal winner Tommy Kelly qualified for the second round of the competition, placing him in the top 16 of biology entrants of his age in the country. If successful in Round 2, taking place at the University of Warwick in April, he will go on to join three other students representing the UK at the International Olympiad in Hungary in July.
The Biology Olympiad enables students with an interest in biology to challenge themselves and broaden their understanding.
Julian Foster, Biology Teacher at Peter Symonds, said "Our Biology students are a talented and motivated group and we are very proud of these fantastic results. It is wonderful to be able to offer them opportunities like this to extend their interest in the subject and receive recognition for their efforts. We are thrilled that they have done so well and looking forward to supporting Tommy as he progresses to the next round of the competition."
Silver medal-winning student Lucy Savill said 'The Biology Olympiad was a great opportunity to do something outside of the course content, stretch myself and expand my knowledge. It was a great way to meet other people with similar interests and I really enjoyed taking part."
For further information about this article or the college in general, please contact our Marketing department by telephone on 01962 857553 or by email marketing@psc.ac.uk.