Careers Day brings together industry, services and education professionals to inspire students
Careers Day brings together industry, services and education professionals to inspire students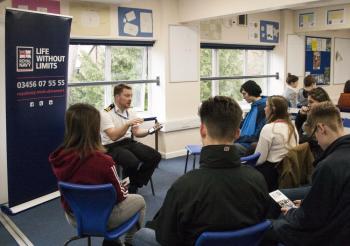 The Careers Department held a College-wide Careers Day dedicated to increasing students' awareness of the opportunities available to them in the future. Over the course of the day over 170 talks and speed networking sessions were delivered by leading industry professionals, local employers and organisations to help students explore future career choices.
Symonds students had the opportunity to listen to and meet experts from a wide variety of different industries and organisations, including the Army, RAF, Royal Navy, paramedics and police officers; producers and editors; leading figures in IT, Law, Finance and Banking; medical and veterinary professionals; university lecturers and a member of the team from Naomi House Children's Hospice, among others.
Alongside talks students had the opportunity to take part in interactive 'speed networking' sessions, with representatives from various sectors spending some time answering questions about their career area and helping students develop their employability skills. RAF representative Anil Chauhan, who took part in the Armed Services networking event, said "It's a great chance to raise awareness of different career opportunities in areas students may not have considered previously; to remove the mystique; and for students to see that their ambition will drive where they go."
The talks and networking events were spread over five sessions with students expected to sign up for at least three sessions. Nearly 200 visitors participated in Careers Day, with talks ranging from Air Traffic Control, Advertising, and Film Production to Pharmacology and becoming an Entrepreneur.
Speakers included University of Southampton Oceanography lecturer Dr Simon Boxall, who appears regularly on television speaking about climate change; Senior Parliamentary Aid Owen Millward; and producer Dean Baker of Hardy Son and Baker.
Student Alex Nicholson, who is hoping to study medicine, attended the Medicine and the Ambulance Service talks and found them invaluable. "Gaining knowledge from an individual doing the job has given me a much better understanding of the role than reading about it in books or online," he said. "I could ask specific questions and deepen my understanding. Their information has broadened my enthusiasm for the career I'm interested in and helped me focus on the route I can take to get there."
Paramedics Katie Collingwood and Richard Miller delivered a popular talk on careers in the Ambulance Service and said "Students were engaged and interested and really took part. We hope it inspires them. Ten years in we still love this job and it would be great to encourage that passion in a new generation."
The Careers Department event had a strong industry focus, allowing students to learn from employers about work, employment and the skills that are valued in the workplace.
Debbie Mahoney, Head of Careers at Peter Symonds, said "The day was a great success and due to a fantastic response from a broad range of speakers students had the opportunity to investigate career paths that may interest them. We wanted to ensure business and industry was well-represented, enabling students to learn from employers, as well as plenty of information on higher education to challenge any preconceived ideas and demonstrate the full range of options our students have ahead of them.
"We're extremely grateful to all the speakers who gave up their time to take part."
For further information about this article or the college in general, please contact our Marketing department by telephone on 01962 857553 or by email marketing@psc.ac.uk.