Students benefit from Symondians' project grants
Students benefit from Symondians' project grants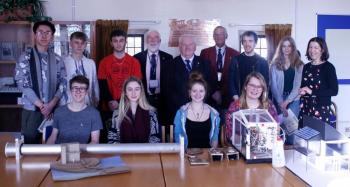 Twelve students taking the Extended Project Qualification (EPQ) have received grants from The Symondians' Association to support them in the development of their projects.
The Extended Project Qualification (EPQ) is an additional qualification equivalent to half an A level. It is a flexible award allowing students to work to their strengths, by giving them the opportunity to choose to either produce a dissertation, an investigation report, a performance, an event, a design, or an object.
The Symondians' Association have supported students working on EPQ projects for a number of years, and for 2018-19 generously doubled their previous grant, awarding a total of £1000 towards the cost of projects undertaken by the students. Individual grants ranged from £30-£130.
The Symondians' Association, founded in 1911, provides a focus for ex-pupils/students and teachers to keep in touch and meet at a series of social and sporting events. The Association also works with the College to provide support for specific departmental initiatives and occasionally individual students.
The students' EPQ projects were completed in December 2018. The students whose projects benefited from The Symondians' grant met with representatives of The Symondians for a lunch where they displayed their finished projects and explained a little about the process to those present.
This year's projects included a project on cymatics, the physics of sound, by Alex Sermon, and an automated greenhouse built by Harry Hopper. Fiamma Franchetti Bond used bee produce to create a range of skincare products and Izzy Howard set up a fashion business producing ethically sourced t-shirts promoting consideration of the environment.
Commenting on the EPQ process, Katie Scratchley, who produced a painting based on polar graphs for her project, said "It was a challenging process but it's given me a boost for university. My EPQ increased and developed my skill set and has given me a deeper love for my subjects."
Sabina Labrow, who coordinates the EPQ programme at Peter Symonds, said "EPQ gives the students the opportunity to become the experts. It develops a wide range of skills and enables students to really connect with a subject or topic. The range of projects completed by our students never fails to impress and amaze, and we are grateful to the Symondians for their support."
Adrian Barnes, Chair of the Symondians' Association, added "The inventiveness of these students' projects is impressive but I was also impressed by how they presented them with aplomb and style. Credit should also be given to the staff and parents who supported them through the process."
Undertaking an Extended Project improves students' skills in time management, academic writing, referencing and critical analysis. In previous years, over 80% of Peter Symonds students have achieved A*, A or B grades in their Extended Project.
Students often choose a project topic related to their future studies at university or their career aspirations and the qualification is valued by universities and employers.
For further information about this article or the college in general, please contact our Marketing department by telephone on 01962 857553 or by email marketing@psc.ac.uk.