Student Union raises over £125 for Save the Children Yemen Appeal
Student Union raises over £125 for Save the Children Yemen Appeal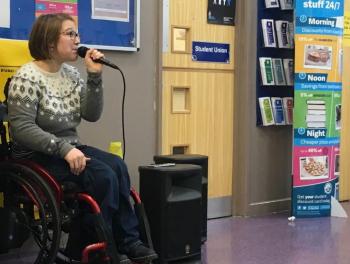 The Peter Symonds Student Union held a musical fundraiser for the Save the Children Yemen Appeal, raising over £125 for the charity. Students Lara Clarke, Mollie Munday, and Bexie Rutherford and Ben Goodman-Church performed for fellow students over three consecutive days in the College Common Room.
Lara sang for fellow students, Mollie sang and played the flute, and Ben played the piano while Bexie sang.
Funds were raised through donations and the Student Union were thrilled with the amount raised. The Save the Children website states that £125 can be used to pay for a health worker to support malnourished children receive life-saving food and care for a month.
Event organiser Mojo Akinyemi said 'The Student Union works hard along with the whole student body to make a positive impact, and we hope to hold more events like this in the future.'
For further information about this article or the college in general, please contact our Marketing department by telephone on 01962 857553 or by email marketing@psc.ac.uk.