International tenor soloist Mark Padmore performs for Symonds Music students
International tenor soloist Mark Padmore performs for Symonds Music students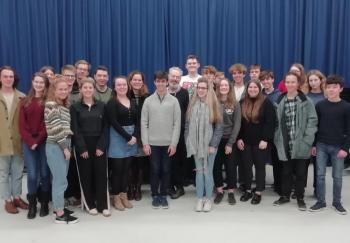 International tenor soloist Mark Padmore visited Peter Symonds College to perform three songs from 'On Wenlock Edge' by Ralph Vaughan Williams, which are A level set works, as well as Schubert's Der Doppengänger and Rebecca Clarke's The Sealman. He was accompanied by Head of Keyboard Sam Carrasco on the piano.
After his performance Mark spent some time speaking with students, answering questions and sharing his experiences performing with some of the world's leading ensembles.
Commenting on the experience, students said; '[Mark] talked about really interesting methods that singers could use to really characterise the piece, like stressing the verb. He is an amazing tenor, really connected to the text.' 'He really created the atmosphere in all of the songs…This is amazing for wider listening, but also he is really good at portraying what the song means.'
Student Ryan Hawkes, who sang 'The Vagabond' by Vaughan Williams, said 'I was honoured to have the opportunity to sing to Mark. His comments were incredibly insightful and helpful. His passion for 'words' came across very well. It was an unforgettable experience.'
Head of Music, Rachel Platt, said 'As a world-renowned performer Mark is very much in demand. Meeting with Mark was an incredible opportunity for our students and they found it very inspirational. To hear him live, performing set works we are studying in class, brought the music to life. We are so grateful to him for singing for us and spending so much time with our students.'
Mark Padmore was born in London, studied at the Kent Junior Music School and played clarinet in the Kent Youth Orchestra. He was awarded a choral scholarship to King's College, Cambridge and graduated with an honours degree in music in 1982.
He has established an international career in opera, concert and recital. In concert he has performed with the world's leading orchestras including the Munich Radio, Berlin, Vienna, New York and London Philharmonic Orchestras, the Royal Concertgebouw Orchestra, Boston and London Symphony Orchestras and the Philharmonia.
For further information about this article or the college in general, please contact our Marketing department by telephone on 01962 857553 or by email marketing@psc.ac.uk.