Symonds students 'Inspired By… Agnes Martin' at Winchester City Museum
Symonds students 'Inspired By… Agnes Martin' at Winchester City Museum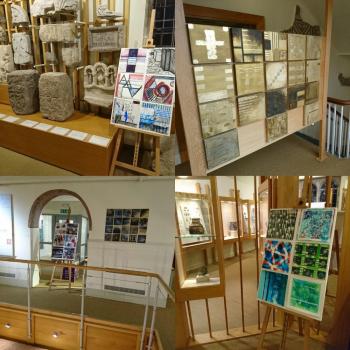 A-Level Fine Art students from Peter Symonds College have produced a collection of artworks forming an art trail throughout the middle and top floor galleries of Winchester City Museum. The workshops and art trail form one part of the Inspired By… Agnes Martin project.
During the project, the students had the opportunity to visit the ARTIST ROOMS: Agnes Martin exhibition that was on display at The Gallery, Winchester Discovery Centre, to experience the work of Agnes Martin, "one of America's foremost abstract painters". After their visit they took part in a series of workshops led by artists from The Colour Factory, a group of six professional working artists, gaining experience in a wide range of techniques and materials and creating their own work inspired by their responses.
Mark Jones, Head of Art at Peter Symonds, said 'this is was a great opportunity for our students to work with professional artists to get a real sense of the possibilities a career in art offers. Seeing their work hanging in the City Museum is a great tribute to the hard work and talent they have demonstrated during this project."
The Inspired By… Agnes Martin project was a creative partnership between Hampshire Cultural Trust, Peter Symonds College and The Colour Factory, and aimed to inspire young people through engagement with the ARTIST ROOMS: Agnes Martin exhibition. It was supported by ARTIST ROOMS, a collection of modern and contemporary art jointly owned by National Galleries of Scotland and Tate as a resource for the nation.
The artwork by students from Peter Symonds will be displayed at the Winchester City Museum until mid-January 2019.
For further information about this article or the college in general, please contact our Marketing department by telephone on 01962 857553 or by email marketing@psc.ac.uk.