Music Department shines during Guildhall Concert
Music Department shines during Guildhall Concert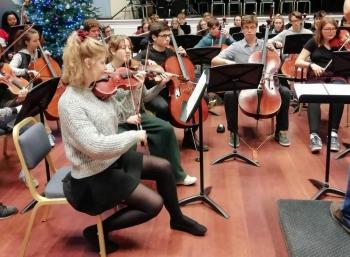 Peter Symonds College students put on an impressive display of musical talent across a wide range of genres and instruments at the Guildhall in Winchester.
The string players of Concerto Ensemble played the lively Capriol Suite and Elgar's expressive Serenade, before Symonds Orchestra took the stage.
The Orchestra opened with Bruckner's dynamic Scherzo from his 4th Symphony, with the hunting calls from the four French Horns leading to an impressive tutti showing off some fantastic brass and woodwind talents. The first half ended with the opening movement of Dvorak's 8th Symphony.
After the interval the College Choir sang a Choral Medley from West Side Story, in the year of Leonard Bernstein's centenary, moving on to the Latin rhythms of 'America' and the soaring finale as the choir sang 'There's a place for us', with hopes for a better future.
Big Band ended the concert with a classy set, including solo vocals from Flora Hartz in 'Fly me to the Moon' and great jazz solos from Sam Toth, Jonny Green, Max Vennick and Lucy Anderson.
For further information about this article or the college in general, please contact our Marketing department by telephone on 01962 857553 or by email marketing@psc.ac.uk.