College maintains OFSTED 'Outstanding' rating in latest inspection
College maintains OFSTED 'Outstanding' rating in latest inspection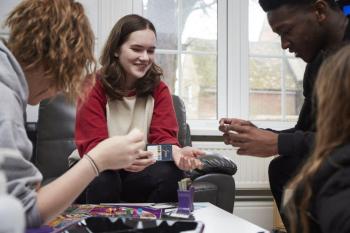 Peter Symonds College's Boarding Provision has been rated as 'Outstanding' in every respect in a recent Ofsted inspection, maintaining its rating of 'Outstanding' from its previous inspection in October 2015.
Inspectors noted that 'boarders live in a supportive and inclusive community which enriches their experiences and positively influences their development,' and included comments from students in their report: 'boarders are extremely positive about their boarding experience. They commented on it being "like a big family", helping to develop their independence, confidence and to take responsibility for themselves.
One boarder commented, "We are treated as adults."
The College's Student Support services received high praise, with the report stating that 'with a focus on treating every student as an individual and responding to their individual needs, support and guidance systems across the college are wide ranging and effective.' In relation to boarding in particular, inspectors commented that 'the support given by staff applies to all aspects of boarders' lives. They recognise and respond effectively to boarders' individual needs…Exceptional support services help students manage difficulties and develop resilience.'
Sara Russell, Principal, commented, "What makes these boarding inspections especially revealing is the way that they look at care and support for all students across the college. We are thrilled that the inspection team recognised the quality of the support here."
The inspection report also highlighted the quality of the College's Boarding Provision's staff, noting that 'ambitious and aspirational leadership is reflected in a culture of high expectation in which all staff strive to support and motivate students to achieve to the best of their abilities…all staff share the common purpose to support each individual boarder to achieve their full potential.'
Julia West, Head of Boarding at the College, said 'our staff in Boarding and across the College work together as a highly committed and caring team, dedicated to providing every boarder with the support and environment they need to succeed, and I am delighted that the inspection recognises this.'
She went on to say that 'the report highlights the emphasis the College places on each student as an individual. With access to all aspects of College life, including a broad programme of activities, a busy social programme and approachable, extensive support services, we are able to meet the diverse needs of our boarders to ensure each and every one reaches their full potential.'
Peter Symonds is the only state sixth form college in the UK to offer boarding in two co-educational boarding houses, housing 75 boarders in total. Boarding houses are staffed by a team of house parents on-site 24 hours day, 7 days a week and each boarding house has a fully equipped kitchen, laundry and Wi-Fi access to foster students' independence whilst providing a safe and supportive environment.
For further information about this article or the college in general, please contact our Marketing department by telephone on 01962 857553 or by email marketing@psc.ac.uk.