Symonds students respond to plea for help
Symonds students respond to plea for help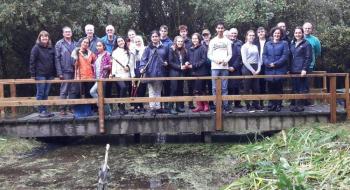 A group of 14 students from Peter Symonds partnered with local charity Community First to help St. John the Baptist Primary School in Waltham Chase with a list of tasks within their extensive grounds.
The students were joined by ten volunteers from the local community and split up into groups to take on the various challenges. Students and volunteers braved the rain to clear out the allotment area ready for the new growing season and cleared back the overgrown brambles to expose the pond area and forest walk, so that the children could safely use the areas for outdoor education.
Kay Bowen, Head Teacher at St. John the Baptist, was delighted with their help, saying "Our children are lucky to have a range of garden areas to enhance their learning and play. However, this makes for a huge amount of grounds maintenance, which we want to do in the most ecologically sensitive way to ensure our resident birds, newts, and mammals can live alongside us happily. With the help of students from Peter Symonds College, local residents, parents and grandparents, a day has been well spent getting our grounds into shape. We love to use the outdoors for learning and scrub clearance; pond dredging and gardening tasks have all made a huge difference to what we can offer our children. Thank you all!"
Liamn Burns, a student from Peter Symonds, said "This is the second time I have volunteered for a social action day. Both times it has given me a great sense of knowing that I have helped someone in my community. Everyone can volunteer, just a few hours of your time makes a huge difference to your peers and community. I think it's important to give up your time to help others."
For further information about this article or the college in general, please contact our Marketing department by telephone on 01962 857553 or by email marketing@psc.ac.uk.