Remarkable Performance by Peter Symonds Students
Remarkable Performance by Peter Symonds Students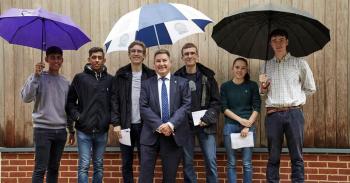 The pass rate has been maintained at a staggering 99% with over a third of the grades awarded being at A* or A (34%). The proportion of the very highest grades (A*, A, B) is an impressive 62%.
A third of grades awarded were at A* or A.

12% of grades were the very top A* grade – 672 A* grades overall; a truly "stellar" performance.

130 students got A* in maths A level alone!

Nearly two thirds of A level grades were either A*, A or B: the very top grades needed to get into the best universities;

69% of grades awarded for the Extended Project Qualification were at A* or A.
Principal, Stephen Carville said, "They say it takes a village to raise a child, and I am always very conscious of the contribution made by all our staff in bringing about these stellar results, but today the real stars of the show are the students: this is a truly remarkable performance by so many young people. I am immensely proud. This shows that Symonds remains the perfect place for ambition."
Student Thomas Sharpe, one of the College's top achievers, received four A* grades and is going to read Economics at LSE, following in the footsteps of his brother Jonty who graduated from Peter Symonds last year and is also studying at LSE. Thomas said of his success, "The news is still sinking in. I'm feeling great and so glad all the hard work has paid off. I've loved my time at Peter Symonds and had great teachers who offered excellent support all the way through, particularly when I decided to change subjects to one that felt right for me."
Harry and Thomas Ashton-Key were among 27 sets of twins at Peter Symonds who received their results today, with both achieving an incredible four A* grades in Chemistry, Physics, Maths and Further Maths, and heading to Oxford to read Physics, Harry at Exeter College and Thomas at Somerville College. They said, "We've had a great experience at Peter Symonds with amazing opportunities – the College has been hugely supportive."
Twins Arjun and Himmat Sohal, who both achieved three As in Chemistry, Maths and Physics, are going to the University of Bath to study Chemical Engineering. "Peter Symonds has offered us a really great learning environment surrounded by students who want to do well. There's lots of independent learning which has been great preparation for university."
Catherine Darlison and her twin, Henry, are both off to Cambridge, Catherine to study medicine at Jesus College and Henry to study music at St John's College. Henry said, "The Music department are wonderful and helped me to achieve all I wanted."
For further information about this article or the college in general, please contact our Marketing department by telephone on 01962 857553 or by email marketing@psc.ac.uk.