Guys and Dolls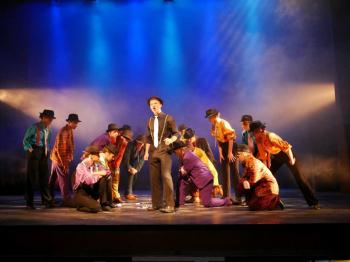 The show ran over three evenings and one matinee, delighting audiences with heartfelt storytelling and high-octane song and dance numbers.
Set in the gambling world of New York, the show followed the adventures of high-roller Sky Masterson, who falls in love with mission worker Sarah Brown; gambler Nathan Detroit in his ongoing quest to find a safe place for his famous crap game; and his fiancée of fourteen years, Miss Adelaide, in her pursuit to convince him to marry her. Students impressed with rollicking performances of "Luck Be a Lady", "Guys and Dolls" and "Sit Down You're Rocking the Boat".
Principal Stephen Carville said: "It was a brilliant show! Our students and colleagues did an amazing job and I am awestruck by the talent and commitment of the cast and crew. It was truly a production of West End standards."
The annual College Production is one of the many enrichment activities available to students at Peter Symonds College, who sign up to take part at the start of the academic year and rehearse until the summer, including through exam periods.
Peter Hedley, Director and Musical Director for the production, commented, "We have a hugely talented group of singers, actors, dancers and musicians at the college and it is always a delight to bring them together to showcase their abilities and give them the opportunity to perform to the public. The show was a great success and I'd like to thank everyone involved for all their hard work."
Credits:
Based on a story and characters of Damon Runyon. Music and Lyrics by Frank Loesser. Book by Jo Swerling and Abe Burrows.
This amateur production is presented by arrangement with Music Theatre International (Europe). All authorised performance materials are also supplied by MTI Europe: www.mtishows.co.uk
For further information about this article or the college in general, please contact our Marketing department by telephone on 01962 857553 or by email marketing@psc.ac.uk.