Peter Symonds' students celebrate a fantastic set of Oxbridge offers
Peter Symonds' students celebrate a fantastic set of Oxbridge offers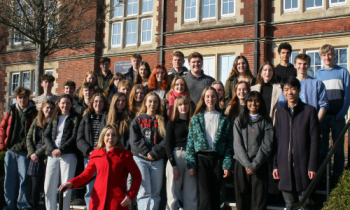 Between them, current Peter Symonds students from 25 different secondary schools across Hampshire and the south have received 23 offers to study at the University of Oxford and 19 offers from the University of Cambridge. Students will be studying a diverse range of subjects from Mathematics, Engineering, Medicine, English, Archaeology, Languages, History and more.
Principal Sara Russell said: 'I am delighted to see the success of our students receiving Oxbridge offers this year. These students have worked very hard to meet the challenging entry requirements and deserve to be celebrated for their achievements.
'I admire the determination of these students and their desire to excel in their chosen fields and wish them the very best for the next step in their education. It takes a lot of focus to persevere through the selection process, especially alongside their current studies.
'I extend my congratulations to their families and give thanks to our dedicated Oxbridge tutor and the team of experienced staff who devote their time and efforts to supporting our young people pursue their dreams. We can't wait to see what the future holds for all of our students at Peter Symonds, and look forward to hearing from this cohort in the coming years.'
Applicants have commended their teachers for their support in the application process. James Robinson, who has received an offer to study Archaeology at the University of Cambridge, said: 'I am really grateful for all the help I received from the College. The preparation sessions from the History department definitely helped me to practise talking about unfamiliar topics and the specific personal statement workshops were very useful for perfecting my statement.'
Monty Austin, set to study History at Cambridge agreed, saying: 'The support I received in preparing for my Cambridge application was exceptional. There was a wealth of resources available to me throughout the past two years which were formative to my success such as HE+ lectures and seminars, personalised entrance exam support from the History department (thank you very much, Eve!), and even an interview masterclass from the drama department. I felt that there was a sincere and personal interest in my academic journey; and the guidance I received from Peter Symonds demystified what would otherwise have been a very daunting experience.'
When asked about the challenges of the application process, Anya Datson, who has received an offer to study Spanish at the University of Oxford, said: 'What I found the most difficult was balancing College work with the application process; but all of my teachers were very understanding and helpful, and the hard work paid off in the end! I attended an Oxbridge workshop set up by the Spanish department which was not only fun and interesting, but helped me develop my knowledge of Spanish culture and literature so that I had the best chance of receiving an offer.'
Another applicant who has been offered a place at the University of Cambridge to study Modern and Medieval Languages also cited the support of the Languages department at Peter Symonds College. Former Kings' School, Winchester student, Orlando Wells, said: 'The Languages Department at Symonds were supportive throughout the whole application process, from providing mock interviews to preparation sessions for the entrance test. Although it is very time-consuming to balance A-Levels and making a competitive application, it was an extremely motivating experience.'
The Music department at the College has a proven history of assisting students in obtaining offers from prestigious universities and prominent conservatoires. Matthew Jones said: 'I'm very excited to have been offered a place to study Music at Worcester College, Oxford. Exploring the subject beyond the curriculum confirmed that the course was the right choice for me and gave me lots of ideas for my personal statement. It's a tough and time-pressured application process, but there was lots of support from the Peter Symonds Music department, and it's so rewarding that all the hard work has paid off.'
Peter Symonds College has achieved a level of success in placing students at Oxford and Cambridge that is on par with that of leading private and selective schools. The College often appears among the top five feeder institutes to Oxbridge, which is particularly impressive given that it is a non-selective state sixth form that welcomes students from diverse backgrounds.
The College is committed to providing a supportive and challenging learning environment that enables its students to achieve their full potential, and the offers from Oxbridge are a testament to the quality of education and support provided. Peter Symonds College looks forward to seeing these talented students go on to achieve great things in their future academic and professional pursuits.
For further information about this article or the college in general, please contact our Marketing department by telephone on 01962 857553 or by email marketing@psc.ac.uk.