Music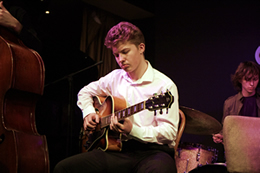 There are currently 110 students studying music A level at Peter Symonds. Music students receive free tuition on their main instrument or voice, and have the opportunity to perform in a variety of bands, orchestras and choirs in a wide range of concerts.
A level results are excellent, with students consistently achieving high grades (A or B) far above the national average. BTEC Music Technology is also offered. Progression to conservatoires and universities is outstanding.
The Music Department is situated in beautiful grounds on the college site in a three-storey Victorian house. Facilities include practice rooms, computer rooms for composition with Sibelius 8 and three recording studios, as well as the Recital Room and more practice rooms in College Centre.
The department also runs the Hampshire Specialist Music Course. Students on this course receive additional coaching, including free tuition on both their first and second study instruments, and many solo and chamber performance opportunities. You are invited to attend our HSMC Open Evening Presentation at 6.30pm on Monday 16 October 2017.
The next auditions for entry to this course take place in January 2018.
Upcoming Events
The department offers many opportunities for students to improve their performing skills, and the lunchtime recital series continues this year, with the focus on classical repertoire on Wednesdays and contemporary music on Thursdays.
11 & 12 July 2018
The 2018 Winchester Festival: Lunchtime Recital Series
£7/£5 students
1.00pm St Lawrence's Church, The Square, Winchester
Two concerts will showcase the exceptional talents of the young performers on the Hampshire Specialist Music Course.