Level 3 Applied Diploma in Medical Science
WJEC (2 Years)
Level 3 Applied Diploma in Medical Science
WJEC (2 Years)
The Level 3 Applied Diploma is equivalent in UCAS points to an A level, and is marked using the same grades (A*-E). Medical Science focuses on the human body - its anatomy, how to diagnose medical conditions and how to treat them. It offers some excellent practical interactions in the medical context (especially in diagnostics).
Course Content
The Level 3 Applied Diploma in Medical Science is for students who are interested in careers related to healthcare and medical research. The course considers how lifestyle may affect health, how ethical issues affect research (such as treatment regimens, side effects of medicines, cost of medicines to society), how factors are considered when prescribing medicines and the legislation that governs activities that have a potential medical impact. There are opportunities to develop your own risk assessments when carrying out laboratory work.
The course is divided into six units:
Human health and disease
Physiological measurement techniques
Medical Science research methods
Medicines and treatment of disease
Clinical laboratory techniques
Medical case study
These units cover human anatomy and physiology, including the function of organ systems, and how these systems can go wrong (for example coronary heart disease and diabetes). You will learn how to perform physiological tests, such as electrocardiograms, nerve conduction studies and vascular scans. You will study the best medicines to treat diseases such as cancer and how they work through their interactions with body systems. You will perform clinical laboratory techniques such as red and white blood cell counts, platelet estimation or DNA sequencing. At the end of the two years you will apply the skills, techniques and knowledge from across the course to analyse medical case studies in the final exam.
Methods of Teaching
The teaching will be done using a variety of approaches and resources. You will also be expected to do work independently and use online resources. In each year of the course you will learn scientific investigation skills and techniques. There is practical work throughout the course to help students to develop the skills necessary to monitor health and disease.
Methods & Patterns of Assessment
This course is assessed using a combination of internal and external assessment:
In the first year there will be one external 2 hour exam at the end of the year (Unit 1) and two internally marked controlled assessments (Units 2 and 3).
In the second year there will be one external 90 minute exam at the end of the year (Unit 6), one internally marked controlled assessment (Unit 4) and one externally marked controlled assessment (Unit 5).
Financial Implications
There will be a small cost to cover printing and other course requirements. The college has a Student Support Fund for students needing help in meeting these costs.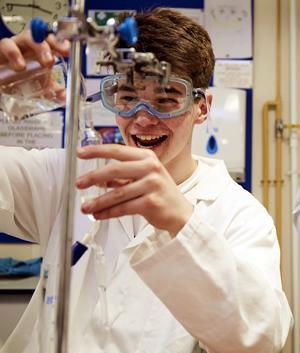 Where Could It Take Me?
This qualification equips learners with scientific knowledge and understanding, as well as practical skills that would support progression to a range of job roles within health care for example: Nurse, Laboratory Technician, Sport Scientist, Paramedic and many others.
As Medical Science is a more applied/vocational and practically focused course, it would combine well with Health & Social Care, Psychology, Sociology, Sport/PE and Chemistry.
Entry Requirements
Standard entry requirements, including a minimum of grade 4 in GCSE Mathematics, English and Science.