A Level Psychology
AQA (2 Years)
AQA (2 Years)
As a scientific subject, Psychology combines well with any other science subject, but equally it can be studied in conjunction with any other course. For reasons of good communication in essay writing, many arts subjects could be advantageous even though Psychology is classified as a science.
Course Content
Paper 1: Introductory to Psychology
Compulsory content
Social influence
Memory
Attachment
Psychopathology
Assessment: 2 hour exam, MCQ, short answer and essays: 33% of A Level
Paper 2: Psychology in context
Approaches in Psychology
Biopsychology
Research methods
Assessment: 2 hour exam, MCQ, short answer and essays: 33% of A Level
Paper 3: Options
Issues and debates in Psychology
Relationships
Schizophrenia
Aggression
Assessment: 2 hour exam involving MCQ, short answer and essays: 33% of A Level
Methods of Teaching
A range of teaching styles is used including group assignments, individual assignments and whole class lessons. Some of these activities are interactive and involve student participation in replicated research studies and experiments. Subject notes, handouts, videos and computer programs are integrated into the course. Regular lunchtime workshops are provided. Individual guidance is given where necessary.
Methods & Patterns of Assessment
The many controversial issues in psychology are best explored in essay form. Good levels of literacy, as well as the development of critical thinking are needed. During the course, prepared and timed essays will be marked to A level standard.
Financial Implications
Students will need to buy both an A level year 1 and year 2 textbook (approx. £25 each). Comprehensive course booklets which include student notes and class activities are provided for each student via the intranet. Each student needs to print these out. At least one Revision conference is organised per year, it costs approximately £40 to attend. Other visits are arranged as appropriate; for example to the Bethlem Hospital and even a trip to China. The College has a Student Support Fund for those students who have difficulty meeting these costs.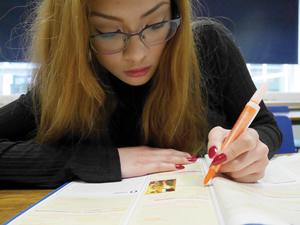 Where Could It Take Me?
Degrees in Psychology can lead to careers in Clinical, Educational and Occupational psychology. Psychology graduates are also valued in advertising, market research, industry, personnel management, counselling, nursing, social administration, professional sport, criminology and even teaching!
Entry Requirements
5 GCSEs at grade 4 or above, including English and one of the following combinations:
If you are studying separate sciences you are required to achieve GCSE grades 6, 5 and 5 (any order) in one other science and Mathematics
If you are studying Combined Science you are required to achieve GCSE grades 6, 5 and 5 (any order) in Combined Science and Mathematics