Your Studies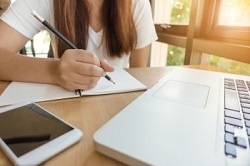 Your study programme at Peter Symonds College will consist of not only your academic lessons but also Enrichment activities and the Tutorial and Lecture Programme. You also have further opportunities to have your learning supported by tutorials, either group or one to one, and subject workshops.
You are expected to conduct your own individual study both out of college and/or in your study periods here on campus, and we have a large Learning Resource Centre (LRC) and a study area where you can use computers, borrow books and laptops, and work quietly.
We also have an excellent Study Support department who are able to help students who may need a little extra help on their academic journey for whatever reason, and you can book appointments with them at any time. More information about this can be found in the student support section.
Tutorial and Lecture Programme
Our tutorial and lecture programme will support your personal development while you are at the College. Developed in response to student feedback, the programme covers relevant, contemporary issues, with the aim of broadening your educational experience. The programme also provides careers education, including employment and higher education options and the UCAS application process.
Individual Study
It is crucial that students take responsibility for their own learning outside of the classroom. Typically, the equivalent of five sessions (55 mins) per week of private study per subject will be needed, increasing in the Upper Sixth year.
When you enrol, you will be given log-on details to the College's student intranet where learning resources, extension activities and assessment details will be found. You will be able to access this from home as well as in College.
Welcome Day
Your subject teachers will provide introductory lessons on Welcome Day to familiarise you with the skills required to succeed in each of your chosen subjects, and to give you a taste of what lessons in these subjects might be like.
Enrolment
At enrolment you will have an individual interview with a member of staff who will help you agree and confirm your final course choices in light of your GCSE results. Our standard programme for students joining us in September is three A level subjects, or the equivalent. Consideration will be given to students hoping to study four subjects, and more information on this and advice will be available during Welcome Day in July and at enrolment at the end of August.
Some subjects set a small task for you to complete after enrolment and before the start of term to get you off to a flying start.
Students are expected to buy all textbooks and other resources and equipment necessary for their academic courses, but there is no need to do this until you start at college. There is a Student Support Fund to help students who might struggle to meet the cost of this and Student Services run a second hand bookshop.