College Progression Fair returns to in-person exhibition
College Progression Fair returns to in-person exhibition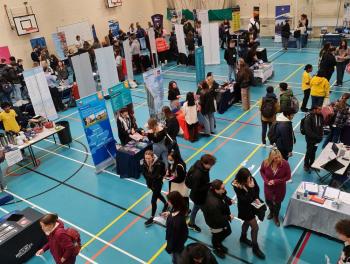 Following on from last month's Careers Day, the Peter Symonds College Progression Fair returned as an in-person exhibition this week, enabling students to explore their post-college options in further detail.
Attended by 75 organisations, the annual Progression Fair gives students the opportunity to talk one-on-one with employers and higher education providers. Exhibitors included representatives from universities across the country, firms offering apprenticeships and lots of inspiration for gap year travel and charity work.
Commenting on the event, exhibitor Ethan Paice from Cisco Systems said, "Events like this are a good opportunity to get in front of students and talk about how we can help them. It's important to highlight opportunities other than the direct-to-university route. There's lots of different pathways and it's great to be able to discuss all the options available."
The Progression Fair was extremely popular and well attended by students throughout the day. Student Ram said, "It was very useful to be able to speak to a variety of universities all together and compare directly, helping me make an informed decision."
Students Eve and Ruby were impressed by the range of exhibitors, saying, "The University of British Columbia is here – I hadn't even considered going abroad to study, or realised I could combine degrees, so that's been really eye-opening. The gap year information was interesting."
They added, "There's lots of variety and information on all the different ways you can go to university - for example information on companies who will pay you to do a degree. I've found it really motivating and accessible."
Head of Careers Debbie Mahoney said, "It was brilliant to be able to return to an in-person exhibition this year with all the buzz and excitement of a physical event, giving students the opportunity to browse all the different options available to them. Student take up was high, with over 2000 students attending over the course of the day. We would like to thank all of the exhibitors and the Symondians Association, who sponsored the event, for helping make the Progression Fair such a success."
For further information about this article or the college in general, please contact our Marketing department by telephone on 01962 857553 or by email marketing@psc.ac.uk.