College hosts first virtual Welcome Day for incoming students
College hosts first virtual Welcome Day for incoming students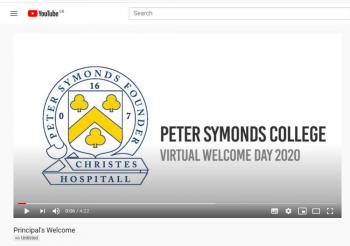 Teachers and staff at Peter Symonds College have held an inaugural virtual Welcome Day for Year 11 students holding offers of a place at the College.
Each summer the College invites Year 11 students holding offers of places at Peter Symonds for the following September to a Welcome Day. Students attend the College to experience taster lessons, meet teachers and other staff, learn about the different types of support available and attend a Fresher's Fair to find out about enrichment activities.
With this year's physical Welcome Day unable to go ahead due to the Coronavirus pandemic, the College decided to move the entire event online.
Students logged in to watch a welcome from Principal Sara Russell and presentations outlining the support services and enrichment programmes available at the College. Each student had a bespoke timetable enabling them to log on to live lessons hosted by teachers of the subjects they had expressed an interest in, finished with Q&A sessions to enable students to ask questions and get a real feel for the subject.
Teachers used a range of features in their lessons to inspire students, including panel formats, interviews with current students, video and interactive polls.
One session even featured a special guest; Gillian Keegan MP, Minister for Apprenticeships and Skills, who joined a session on Education and Childcare T levels. Peter Symonds is one of a very few Colleges selected to start delivering the new T levels from September 2020, and teacher Dawn Hiscox said "We were delighted Minister Keegan was able to join the session as it was a great opportunity for our applicants to be able to ask her questions and hear her advice."
Commenting on the virtual Welcome Day, Year 11 student Emma N said, "The virtual Welcome Day was brilliantly executed! I felt that all the staff were very friendly and I really am so excited about starting at Symonds in September. I'm confident that my education will still be of good quality even if it remains virtual for a while."
Principal Sara Russell said "We are painfully aware that so many students have missed out on key experiences and rites of passage this year – exams, proms, holidays, festivals – and although our physical Welcome Day couldn't go ahead, teachers and staff were determined to make incoming Year 11 students feel part of the College and confident ahead of starting here in September.
'The virtual Welcome Day was a great opportunity for our incoming students to meet and connect with teachers and staff, and start building the relationships which are going to be so important for them over the next two years. They may have had a challenging end to their time at school but we are determined to ensure that they are fully supported and are ready to commence their studies with us in September. We look forward to welcoming them to the Symonds community and we will work hard to ensure that they have a remarkable experience here at Symonds.'
For further information about this article or the college in general, please contact our Marketing department by telephone on 01962 857553 or by email marketing@psc.ac.uk.