English Department Launches Corona Chronicles Competition
English Department Launches Corona Chronicles Competition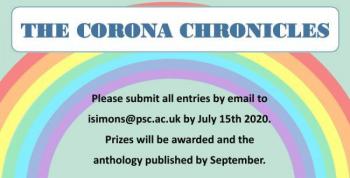 In these unprecedented times we have been experiencing life in ways that are new to us all. There has been grief, loneliness and fear but also creativity, courage and hope. In our community at PSC the one thing we have all experienced is separation. But we can write ourselves back together again!
In this collaborative writing project and competition, we invite all PSC students and staff to write about your experiences since the end of March 2020, in any way you like. Please send in approximately 500 words of writing of any kind (fiction, non fiction, prose, poetry) that is based in or inspired by the coronavirus pandemic. We will publish as many entries as we can in an online anthology entitled 'The Corona Chronicles' in September. There will be two prizes of £100 for the two winning entries from students and ten smaller runner up prizes of £10. There will be three edible prizes for three winning staff entries.
The competition is being run by the English Language and Literature Department. It will be judged and the prizes funded by the esteemed members of our Symondians Association, which is a society for alumni (ex students) of the College. Current year 13s are warmly encouraged to join the association.
For further information about this article or the college in general, please contact our Marketing department by telephone on 01962 857553 or by email marketing@psc.ac.uk.