Symonds students look to the future
Symonds students look to the future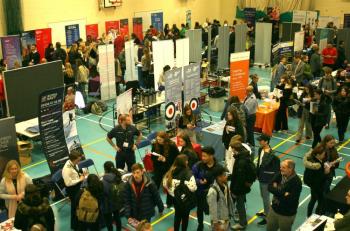 Over 1,750 students from Peter Symonds attended the College's annual Progression Fair recently, with more than 80 universities, businesses and organisations available to showcase a range of career and education opportunities post-18.
A diverse range of exhibitors offered information and advice on degree courses, higher and degree apprenticeships, training, employment and practical information.
A number of leading businesses including IBM, PWC, Simply Health, Fujitsu and Home Office Border Control among others attended, and many took advantage of the opportunity to showcase their apprenticeship schemes. Will Holmes, who is on an ExxonMobil Apprenticeship Programme, explains "I wanted to do something a bit more 'on-site', […] a bit more practical than learning within a classroom. And then you end up learning a trade with all the benefits that come with it."
Maria Whittingham, a Student Recruitment Specialist at CGI, who also sponsored the event, said regarding apprenticeships: "Essentially you get the best of both worlds, you get the training and qualifications as well as the salary and the work experience."
Universities from around the UK were also well represented. Universities included Kings College London, UWE Bristol, Royal Welsh College of Music & Drama. University of Winchester co-sponsored the event and representative Alix Hickman said: "We have really enjoyed meeting your students today. They have obviously given lots of thought to their futures and came prepared with questions about courses and careers. Having a mix of education providers and jobs has meant that students have been able to find out about the routes in to careers and about the careers that various qualifications can lead to."
Service personnel from the RAF, Army and Royal Navy and representatives from Hampshire Constabulary and Home Office Border Force were all available to speak with students.
Lizzy Osundina, a Peter Symonds Student in the Lower Sixth, commented: "I found it useful to have a variety of options and paths I could go down. As someone who doesn't know what I want to do as a career, it was very helpful to have people […] helping me understand and took some pressure off the idea that 'my life has to already be planned'. What I found really helpful was the variety of exhibitors, for people who don't want to go to university - they had the opportunity to talk about apprenticeships, military, etc."
Debbie Mahoney, Head of Careers at Peter Symonds, said "We were extremely pleased with the large number of students who attended the fair and observing how motivated and keen students were to explore their options and speak to exhibitors to discover more. There was a real buzz around the college campus and we have certainly seen more students requesting appointments with our team of Careers Advisers to discuss and start researching further their next steps."
The Progression Fair took place during National Careers Week, which aims to showcase all the incredible opportunities an apprenticeship can offer to individuals keen to start their careers. The Progression Fair follows on from the College's recent Careers Day, where over 200 talks and speed networking sessions were delivered by leading industry professionals, local employers and organisations to help students explore future career choices.
For further information about this article or the college in general, please contact our Marketing department by telephone on 01962 857553 or by email marketing@psc.ac.uk.