Symonds Young Musician Festival welcomes big names in music
Symonds Young Musician Festival welcomes big names in music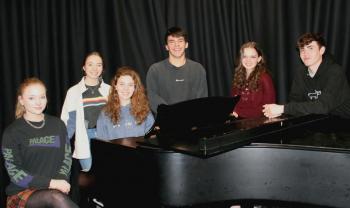 Peter Symonds College Music Department held its annual Young Musician Festival recently, with distinguished visiting musicians holding a range of masterclasses and workshops. Head of Keyboard Samantha Carrasco organised the festival Monday to Thursday, and accompanied all the student performers.
The Festival started with a masterclass for the singers followed by an exciting workshop titled "You can sing but can you swing?" with Alexander L'Estrange, a British choral composer, arranger and workshop leader of international acclaim, and conductor at Carnegie Hall.
Professor Tim Barratt, Piano Professor at the Royal Academy of Music, and former Head of Piano at Dulwich College, held a piano masterclass followed by a well-attended workshop on "Performance nerves and how to deal with them".
The Festival continued with a masterclass for brass players with Jo Hensel from the Guildhall School of Music, who also held a workshop on getting the most out of auditions, and a woodwind masterclass from Zoe Booth.
Following the strings masterclass Jesper Svedberg, Principal Cellist in the Bournemouth Symphony Orchestra (BSO) and cellist in the Kungsbacka Piano Trio, generously gave students some of his time in chamber music coaching and ran a workshop about life as an orchestra musician. Students from the Music Department were able to see him in action in the BSO Concert in Portsmouth that same evening. Many PSC music students are intending to train for this profession, and their progression to highly-competitive conservatoires is outstanding.
All day on Friday the focus was on Contemporary music, organised by Ted Carrasco, featuring guests Adetoun Anibi and Lewis Allen. Singer Adetoun has worked with number one artists such as Leona Lewis, Kylie Minogue, Ellie Goulding, John Newman, Kwabs and Stormzy. Lewis Allen is one of the most in demand guitarists in the world today, has toured with Sam Smith's "The Thrill Of It All" Tour and performed with Liam Payne (One Direction), in addition to writing and recording with Mabel and others.
At the Contemporary Festival Adetoun and Lewis held solo and band workshops and a lunchtime jam session with the college Soul Band, and the day ended with an evening concert which included a set by Soul Band and featured solo vocal performances. Lewis and Adetoun performed in a brilliant final set with PSC teachers Ted Carrasco, drums, Rob Johnston, guitar, and Peter Hedley on bass.
The students voted as outstanding performers were:
Voice: Alexandra Knott; highly commended Amy Chau
Strings: Jacob Hartley; highly commended Sam Booth
Brass: Laura Leigh; highly commended Lauren Gargan
Woodwind: Amélie Budd; highly commended Jess Gill
Piano: Jas Arnold; highly commended Archie McMorran
Contemporary: Sully Wattam; highly commended Harry Peters-Gill, Emilia Tarrant
Students Amélie Budd and Letty Mader said: 'The workshops were really helpful and all the visiting musicians gave us constructive feedback and some encouraging compliments.'
For further information about this article or the college in general, please contact our Marketing department by telephone on 01962 857553 or by email marketing@psc.ac.uk.