Students mark Holocaust Memorial Day 2020
Students mark Holocaust Memorial Day 2020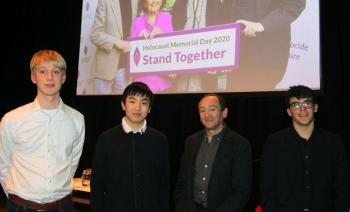 Students and staff from Peter Symonds College joined Winchester local Danny Habel at a talk at Winchester Discovery Centre to mark Holocaust Memorial Day 2020.
Danny spoke on the topic 'My Family Blown Apart', a biographical talk based on the experiences of his own family during the Holocaust. Students from Peter Symonds College provided music and readings for reflection.
During the event Jacob Hartley played 'Affirmation' from Suite Hebraique on the viola and Sam Booth played 'Jewish Song' (no 3 from Jewish Life) on the cello. Both pieces were composed by Bloch.
Daisy Hawker and Tony Kang performed 'Lost Language', written by students Jasmine Merriman and Robyn Hill, a 'found' poem created using archive materials, testimonies and other writings about the Holocaust. Cameron Hodgkinson read his piece 'Remembering the Holocaust' reflecting on his own personal experience learning about genocide.
Jasmine Merriman, co-writer of 'Lost Language', said "I wanted to be involved in this project as I believe that the holocaust is a tragedy we should do all we can not to forget, and honour with our artforms."
Daisy Hawker, who read 'Lost Language' at the event, added "As someone who represents a college with such a strong ethos against hate and discrimination, it was the least I could do to honour the many lives that were tragically lost to hate. It was an honour to represent Peter Symonds College at such a moving and eye-opening evening."
Danny said "I am very pleased that Peter Symonds students participated in this year's Holocaust Memorial Day in Winchester. It is so important that young people are aware of the horrors of the past that grew out of discrimination and bullying.
"The quality and imagination in the work of Jasmine and Robyn and Cameron, the presentational skills of Jacob with his viola, Sam with the cello and the expressive, dramatic reading by Daisy and Tony were a credit to the college that set a moving tone for the evening."
Please click on the following links to read the pieces performed at the event.
Lost Language by Jasmine Merriman and Robyn Hill
Remembering the Holocaust by Cameron Hodgkinson
For further information about this article or the college in general, please contact our Marketing department by telephone on 01962 857553 or by email marketing@psc.ac.uk.