Boccia and New Age Kurling Hampshire School Games Qualifier
Boccia and New Age Kurling Hampshire School Games Qualifier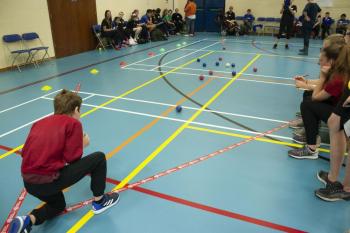 Peter Symonds College will host the Hampshire School Games Qualifier for Boccia and New Age Curling, which allows children of all physical abilities from Key Stage 2-4 to compete, on 13 January, 2020. The event will run from 10am until 2:30pm.
Both New Age Kurling and Boccia are sports that can be played by all abilities. New Age Kurling involves throwing stones across the floor to get them to land on a target. Boccia is also a target game, however, you throw balls from a seated position.
If you are interested in entering your school, please contact the HSLA on: hsla-group1@psc.ac.uk by Monday 6 January, 2020.
For further information about this article or the college in general, please contact our Marketing department by telephone on 01962 857553 or by email marketing@psc.ac.uk.