Politics students enjoy discussion with former FT editor Sir Geoffrey Owen
Politics students enjoy discussion with former FT editor Sir Geoffrey Owen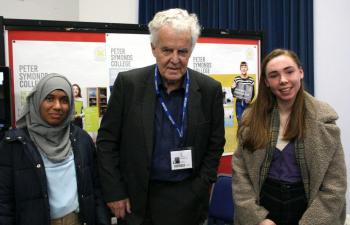 Peter Symonds College was delighted to welcome Sir Geoffrey Owen, former editor of the Financial Times and current head of the economic think tank, Policy Exchange, to the College for a lunchtime talk and question and answer session with students.
Speaking on the topic 'From Thatcher through Blair to Boris Johnson: a journalist's view of British politics since the 1980s' Sir Geoffrey gave an analysis of three key periods of economic change in the UK – 1949, 1979 and 2008 – and an insight into how these periods have impacted on the current economic policies of the two main parties.
Sir Geoffrey's talk was followed by a lively question and answer session with questions from students covering a wide range of topics, including the upcoming UK election, strengths and weaknesses of capitalism and US politics, among others.
For further information about this article or the college in general, please contact our Marketing department by telephone on 01962 857553 or by email marketing@psc.ac.uk.